Rajkumar Hirani's latest release Sanju starring Ranbir Kapoor has been receiving rave reviews from most critics and audience. It has barely been a day since its release and the movie has already surpassed Salman Khan's Race 3 as the biggest opener of 2018, but there are some who feel the movie is an attempt to clean up Sanjay Dutt's tarnished image.
Sanju primarily focuses on the controversial episodes of Sanjay Dutt's life - his drug addiction, his connection with the underworld, and his imprisonment for possessing illegal firearms.
While the film is being called as the best entertainer of the year so far, there are still some who are highly disappointed with the director. They felt that the movie is not an honest biopic on the life of Sanjay Dutt, but just presents him as a victim.
The movie, which shows Ranbir Kapoor portraying the tainted actor, largely indicates that it is the media that was responsible for branding Sanjay Dutt as a "criminal" and "terrorist".
According to Sanju, a number of apparently fabricated news reports had come up during the trial of Sanjay's TADA case, which caused many to believe that the actor was connected with the 1993 Mumbai blasts.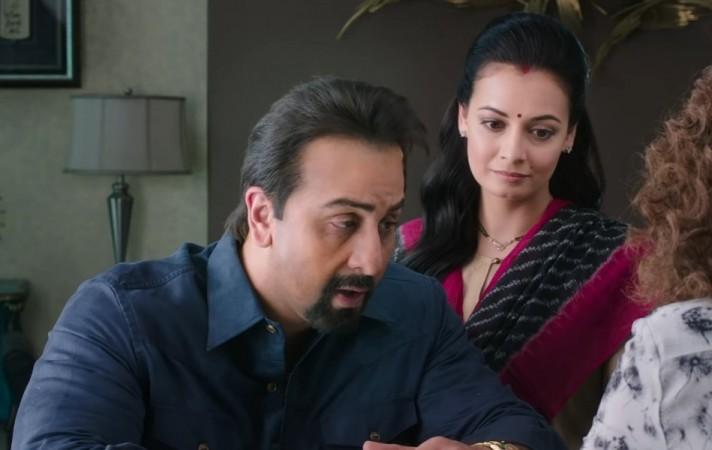 Hirani had earlier stated that Sanju does not give a "clean chit" to Sanjay, despite the popular opinion on the film being a PR stunt. Here's what Hindustan Times quoted the director as saying when he was asked if there was redemption for Sanjay Dutt in the film.
First you tell me, how is this perception created? It is created by what is written about him, but all that writing is skimming over the surface. What has Sanjay Dutt done? First of all, I have not given him a clean chit - you'll see that in the film. But what is his crime? That he kept a gun. Did he shoot anybody with the gun? Did he threaten, or kill anybody with the gun? Why did it all happen? What was the reason? That's the story of the film, which you'll discover.
Regardless of what the director had to say, the audience, after watching the movie is not convinced.
Many took to Twitter to voice their opinions. While some called it a PR exercise to normalise the crimes committed by the actor, others sarcastically commented that Hirani is returning to his days as an ad filmmaker with Sanju.
Check out some of the tweets here:
Watched #Sanju. Here're a few points -
1) Sanjay Dutt is not a terrorist.
2) He did drugs cuz bro pressure.
3) He kept AK-56 to protect Sunil Dutt.
4) Media is only business, all journalists are evil.
5) Sanju is a PR stunt.
6) Didn't expect this from Raju Hirani.

— V.I.V.E.K (@ivivek_nambiar) June 29, 2018
Not going to see Sanju in theaters (even though I like Ranbir Kapoor) because if they made a PR film about how innocent Sanjay Dutt is I think they should pay us to see it & not the other way round.

— Arnab Ray (@greatbong) June 29, 2018
Ranbir Kapoor, a brilliant actor could have done wonders with a better script but has to settle for a PR stunt that tries to whitewash the image of Sanjay Dutt #Sanju

— Mr Natwarlal (@MrNatwarlal79) June 29, 2018
#Sanju is such a horrible movie.. sorely disappointed with the narrative and contrived expressions of the actors.. instead of a biopic it renders itself as a positive PR campaign for sanjay dutt

— An Open Book (@BookAtEveryNook) June 29, 2018
#Sanju was a fine way of white-washing Sanjay Dutt's image.

At the end of two hours I still have zero pity for him.

If anything it just gave Vicky Kaushal another platform to show his brilliance and makes you feel really bad for Sunil Dutt.

— Harish Iyengaar (@scaryhairyman) June 29, 2018
Once an ad man always an ad man.. Raj Kumar Hirani returns to his first love and makes his longest ad film #Sanju to whitewash/cleanse Sanjay Dutt's image.
One Film.. Many LIES !!

— Amod Mehra (@MehraAmod) June 30, 2018
Nonetheless, a majority of the audience have given the movie a definite thumbs up, which is reflected in its first day at the box office collection. The film made a huge business of almost Rs 34 crore in the domestic market on Friday.