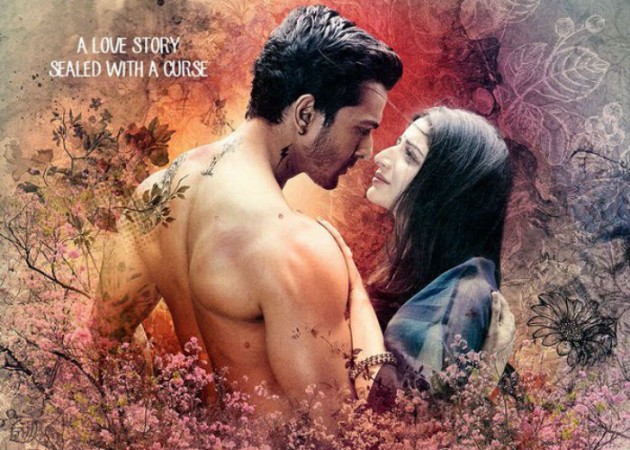 Bollywood movie "Sanam Teri Kasam" (STK), starring Telugu actor Harshvardhan Rane and Pakistani actress Mawra Hocane, has garnered positive reviews from the audience.
Check: Sanam Teri Kasam Critics Review | STK Posters | Music Launch Photos
"Sanam Teri Kasam" is a romantic entertainer directed by Radhika Rao and Vinay Sapru, and produced by Deepak Mukut. Himesh Reshammiya has composed the music for its song, and the background score and his songs have already become a big hit. Chirantan Das has handled the camerawork for the film.
"Sanam Teri Kasam" tells the story of Saraswati (Mawra Hocane), who hails from a strict South Indian Brahmin family. Her father wants her to get hitched to an IIT-IIM graduate, but she often gets rejected due to her appearance. Inder (Harshwardhan Rane), a boy with criminal past, stays in her building. Saraswati's father mistakenly suspects she is having an affair with Inder. Though he has feelings for her, Inder tries to get her an IIT/IIM graduate.
"Sanam Teri Kasam" is a beautiful love story high on emotional quotient. The movie makes viewers cry, and entertains them as well. Rane and Hocane, who made their Bollywood debut with this film, have delivered brilliant performances. Their sparkling chemistry is the highlight of the film.
The movie has rich production values, and the melodious music and beautiful picturisation are big attractions on the technical front. We bring you the viewers' verdict shared on Twitter. Here is the live update of "Sanam Teri Kasam" movie review by the audience:
Taran Adarsh ‏@taran_adarsh
#SanamTeriKasam is embellished with a sensitive story, top notch performances by @harsha_actor and @MawraHocane and melodious soundtrack.
Pãrmãr Rãhül ‏@DirectorRahulR
#SanamTeriKasam Is Embellished With A Sensitive Story,Top Notch Performances By @harsha_actor And @MawraHocane And Melodious SoundTrack.
Dr Shaheen Khan ‏@DrShaheenK
Watched #SanamTeriKasam tonight. Loved the movie! Wonderful performances by @MarwaHocane and @harsha_actor Very touching story! The only negative in #SanamTeriKasam for me was the end felt slightly dragged but loved so many things that it's worth it. Would definitely recommend #SanamTeriKasam this weekend. Besides the lovely songs, the story draws you in! Lots of emotional moments. #SanamTeriKasam Really enjoying the movie so far! Good story. #SanamTeriKasam
Chetan Metkar ‏@chetanmetkar1
#SanamTeriKasam beautiful love story nd this time something new nd something different.songs being liked by peoples.goodluck @MawraHocane
JD ‏@JD_Bosssss
Just Fabulous Movie ❤️❤️ And This Two @MawraHocane n @harsha_actor Still The Show #Sanamterikasam Heart Touching Acting n movie
Akshay ‏@akki1612
@MawraHocane and @harsha_actor look fabulous in trailer and songs! Hopefully they Will have great career in Bollywood #SanamTeriKasam
Bharati Dubey ‏@bharatidubey
Watched #SanamTeriKasam last evening d debutants are simply brilliant.@harsha_actor & @MawraHocane wish to c Bollywood lineup 2 sign u guys
Alia Al Emadie ‏@TimeOdor
#SanamTeriKasam, saw it today and it was absolutely beautiful. Those two's chemistry and terribly mad love will forever linger in me :')
Sonia Hindustani ‏@sonu_sorari 29m29 minutes ago
Beautiful love story packed with Mind blowing acting. Must watch peepzzz @harsha_actor #SanamTeriKasam is fabulous movie!!! Hats off to Harshvardhan and Mawra
@ShatakshiPurari @kkundra This is most romantic scene in the movie hug with handcuffs #SanamTeriKasam. Mesmerised pic.twitter.com/ygMPAEO99c

â€" Sonia Hindustani (@sonu_sorari) February 5, 2016
RJ ALOK ‏@OYERJALOK
Superbbbbbb Actors .... Every frame you Both Made Alive.. Welcome to Bollywood @harsha_actor @MawraHocane Yes... Rare Gems. #SanamTeriKasam Mind Blowing Performances in different Sequences , Brilliant Emotions , way to go @MawraHocane #SanamTeriKasam @ErosNow Apt for Inder, appreciable spectacular admirable Performer @harsha_actor Praiseworthy !! #SanamTeriKasam
Kishan Agrawal ‏@kishankragrawal
Movie Review: #SanamTeriKasam will make you cry, smile & also entertain you at the same time
Movie Talkies ‏@MovieTakies
#SanamTeriKasam : The film is a manual on how not to make a contemporary romantic film 1/5
India RTs ‏@IndiaRTt
#SanamTeriKasam review: This modern-day 'Mili' is a showcase for newbies Harshvardhan, Mawra ...
BoxOfficeCollection ‏@Info_BoxOffice
Top notch performance by @MawraHocane in #SanamTeriKasam Amazing script.. The love story has really sealed our hearts !! Will go a long way