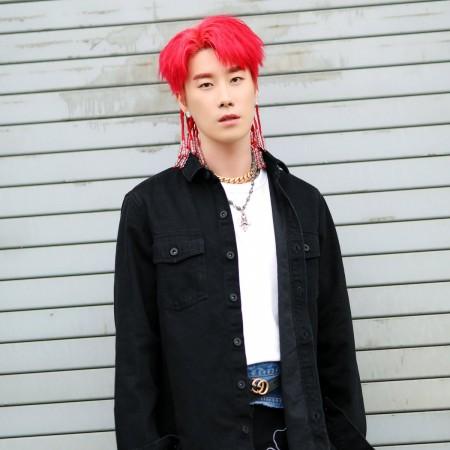 On November 16, rapper San E aka Jung San released a new song titled "Feminist" on YouTube sharing his views on the current state of feminism in South Korea.
According to YouTuber DKDKTV, who interprets the symbolism in K-pop music videos, has translated the lyrics posted on San E's "Feminist" video with an underlying take on South Korea's gender pay gap being low among OECD countries while the singer urges women to blame the system and not men claiming repeatedly to be a feminist.
In the song, San E also criticizes the dating culture where men pay for dates; "Me Too" movement, "Escape the Corset" movement and further questions as to why women are not required to meet the country's National Military Service as men do. The singer has faced the ire of the public for his views with many pointing out that the rapper has not enrolled for the National military service and other issues.
Further to the public outcry, the rapper took to Instagram to offer his explanation on the song. He wrote "I thought that if I wrote an explanation it would be seen as an excuse and that people would accuse me of changing my beliefs according to people's reactions. I put out a song and it's the public's job to judge it. Since I thought someone would understand the song's true meaning, I thought it would be better to stay silent myself".
He further stated that a close aid for over a decade felt "betrayed and regretted the time she spent being a fan" after listening to the song. The rapper said, "The song is not aimed at expressing hatred towards women. If you listen to the song one more time, you will see that the narrator in the song is not me. I enjoy books and movies with this Meta perspective and I thought I had set up my song so that people would understand what I was doing".
San E said he chose the theme in order to speak strongly against the societal issues of hatred against both men and women and explore the mentality of people who say they respect feminist, gender equality and women while being a hypocrite.
The rapper also posted a line by line explanation for the lyrics and stated that the narrator in the song does not represent all men stating that rational men and women respect and love each other. He concluded his post with an apology for any misunderstanding or disappointment caused by his song.
San E's agency Brand New Music claimed that it was not aware of the song prior to its release that has evoked debates on feminism and gender equality in South Korea.



View this post on Instagram