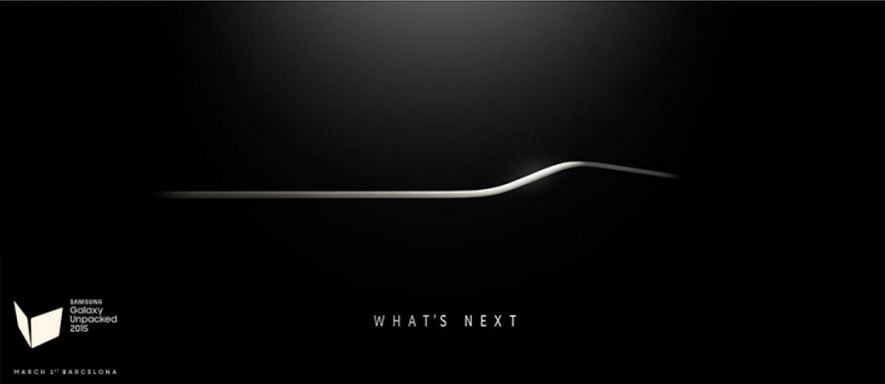 We are just a couple of weeks away from witnessing the unveiling of Samsung's 2015 flagship phone Galaxy S6.
The company in its bid to build excitement before the launch has begun to tease key features such as the new processor and it has hinted that the camera will be one of highlights of the upcoming device.
Rumours mills too are going overboard, they have already detailed almost all features of Galaxy S6. However, everything that is twirling in the Internet doesn't necessarily end up being true.
So, to provide some clear perspective on the Galaxy S6, we have leafed through multiple reports and have stitched together a list of probable specifications and also the expected release date and price details of upcoming Samsung's 2015 marquee phone.
Samsung Galaxy S6-Display:
Samsung's new phone dubbed as Galaxy S6 is said to come in two variants - one a normal model and another with three-sided limited edition Edge series.
It learnt that the Galaxy S6 Edge will have dual-edge display; where-in phone's screen will be curved on both right and left side.
Extra space on the both edges are said to be utilised to house illuminated icons (shortcuts) for easy access to user's favourite apps.
[Note: Galaxy Note Edge has curved screen only on one side]
In terms of display, company has reportedly kept 5.1-inch size same as its predecessor Galaxy S5, but the resolution will be bumped from full HD (1920x1080p) to the new industry standard- QHD (aka 2K: 2560x1440p), which translates to 550 plus pixels per inch.
Samsung Galaxy S6-Processor, RAM and storage:
In 2014, flagship phone Galaxy S5 was released with two chipset variants based on network availability in select regions.
However in 2015, Samsung is expected to release only one model running the company's in-house built 64-bit class Exynos 7 series Octa-core model.
The company has apparently ditched new Snapdragon 810 CPU in its flagship smartphone owing to technical limitations.
Bloomberg citing sources inside Samsung reported that the company faced over-heating of the Snapdragon 810 chipset during the test run of Galaxy S6.
The good news is that Exynos 7 is said to be more superior to Snapdragon 810 as the former is an advanced 14nm (nanometer) class chipset, which comes paired with Cat 10 LTE connectivity support, whereas the latter is 20nm class chipset with Cat 9 LTE support.
Samsung on Tuesday (17 February) tweeted – " I am #TheNextGalaxy. See how I give more time to others at #Unpacked" with a teaser video hinting a faster processor in Galaxy S6.
In terms of storage, we expect the new Samsung smartphones to ship with 3GB (or 4GB) RAM and 32GB/64/128GB inbuilt memory having expandable options via microSD card.
Samsung Galaxy S6 - Value-added Features:
Much Improved Fingerprint Sensor:
In 2014, Samsung for the first time introduced the finger-print sensor in Galaxy S5. However, critics and fans alike were disappointed with the design of home button. It had very little space to house the sensor and this faulty swipe based finger-print resulted in frustration for user who were forced to repeatedly swipe their fingers on the home button to get access into phone.
Now the reports from the South Korea say that the Samsung has dumped the swipe-based system to touch-based sensor which can enroll whole finger-pattern on the Galaxy S6.
"The sensor will work in the same manner as on the Huawei Ascend Mate 7 and the iPhone 5S / 6 / 6 Plus," reported SamMobile citing sources inside the company.
Heart-rate sensor and UV (Ultra-Violet) sensor:
Like Galaxy Note 4, Samsung's new Galaxy S6 is also expected to boast UV sensors and heart-rate monitor as well.
Samsung Galaxy S6 and Edge-Mobile Operating Systems:
Samsung has already initiated the phased roll-out of Android 5.0 Lollipop update to the Galaxy S5, Note 4, Galaxy S4 and Note 3, so in all probability Galaxy S6 will run on the new sweet candy flavoured Google mobile OS out-of-the box.
Samsung Galaxy S6 and Edge -Camera details:
Last week, Samsung's own Camera R&D division head officially disclosed that the upcoming Galaxy S6 will not only have bump in mega-pixel count, but also some value-added 'intelligent' features to enhance photography experience.
[Read More- Galaxy S6 to Boast 'Intelligent' Camera that Enhances Users' Photography Experience: Samsung Official]
"We (Samsung) meticulously evaluate every single facet of our smartphone cameras by taking over 10,000 photos in every imaginable lighting environment for analysis. The same passion and dedication has been put into building the cameras for the release of our 2015 flagship model. It will be intelligent and do all the thinking for users, allowing them to take amazing pictures under any conditions, without having to worry about anything more than just pressing the shutter button," said DongHoon Jang, Senior Vice President and head of Camera R&D Group at IT & Mobile Communications, Samsung Electronics.
Samsung Galaxy S Series Camera Evolution Chart:
| | | | | | | |
| --- | --- | --- | --- | --- | --- | --- |
| Pixels | Galaxy S | Galaxy SII | Galaxy SIII | Galaxy S4 | Galaxy S5 | GalaxyS6[Expected] |
| Main Camera | 5MP | 8MP | 8MP | 13MP | 16MP | 20MP |
| Front Camera | VGA | 1.9MP | 1.9MP | 2MP | 2MP | 5MP |
The company even tweeted a teaser image hinting Galaxy S6 will have great camera.
Samsung Galaxy S6 and S6 Edge Battery details:
Technology blog, ITCLE has learnt that the Galaxy S6 models will be powered by 2600mAh battery, that's 200 mAh less than Galaxy S5. Fret not; it is believed that the Exynos 7 processor is efficient enough to manage battery usage so that the phone can last a whole day.
Galaxy S6 is also expected to boast of wireless charging capability.
Samsung Galaxy S6 and Edge Price details:
Android Pit citing sources has claimed that Samsung Galaxy S6 models- 32GB, 64GB and 128 would cost- €749 Euros (around $848/₹52,600), €849 Euros (around $961/₹59,600) and €949 Euros (around $1074/₹66,630) respectively.
Whereas the Galaxy S6 Edge models – 32GB, 64GB and 128GB will come with price-tag of €849 Euros (around $961/₹59,600), €949 Euros (around $1074/₹66,630) and €1049 Euros (around $1187/₹73,650)
Samsung Galaxy S6 Release details:
We all know that Galaxy S6 is all but certain to get launched on 1 March at Galaxy UNPACKED 2015, Barcelona.
[Read more: Samsung Officially Sends out Invites for Galaxy UNPACKED 2015; Flagship S6 with Curved Display Pegged for Launch Next Month]
Now it has come to light that Galaxy S6 will hit stores in select global markets either around 22-30March/19-27 April 2015. The company has sent out a memo asking Samsun store employees to restrain from apply leaves in the aforementioned time-frame hinting Galaxy S6 might released within a month of launch, reported Phone Arena.
It is believed that Samsung wants to have a head start over the rivals - HTC and Sony - who are also slated to announce their flagship handsets One (M9) aka HIMA and Xperia Z4 respectively at MWC 2015.
Expected Specifications of Samsung Galaxy S6 and Galaxy S6 Edge:
Model
Samsung Galaxy S6 and S6 Edge
Display

5.1-inch super AMOLED QHD (aka 2K: 2560x1440p) screen. It will be protected by Corning Gorilla Glass 4 shield
Pixel density: more than 557 ppi (pixels per inch)

OS
Most likely to come with Android 5.0 Lollipop OS
Processor
14nm based 64-bit class Exynos 7420 Octa-core (four Cortex-A53 + four Cortex-A57 cores)
GPU
Mali T-760
RAM
3G/4GB
Storage capacity
32GB, 64GB and128GB
Camera

Main: 20.0-megapixel with 4K video recording option, OIS (Optimal Image Stabilization)
Front: 5.0-megapixel camera

Battery
2600 mAh
Network
4G-LTE (CAT10 speeds of up to 450 Mbps download speed)
Colours
Dark-blue, Blue-green, Gold and White
Price

Samsung Galaxy S6 32 GB: €749 Euros (around $ 848/₹ 52,600)
Samsung Galaxy S6 64 GB: €849 Euros (around $961/₹59,600)
Samsung Galaxy S6 128 GB: €949 Euros (around $1074/₹66,630)
Samsung Galaxy S Edge 32 GB: €849 Euros (around $961/₹59,600)
Samsung Galaxy S Edge 64 GB: €949 Euros (around $1074/₹66,630)
Samsung Galaxy S Edge 128 GB: €1049 Euros (around $1187/₹73,650)