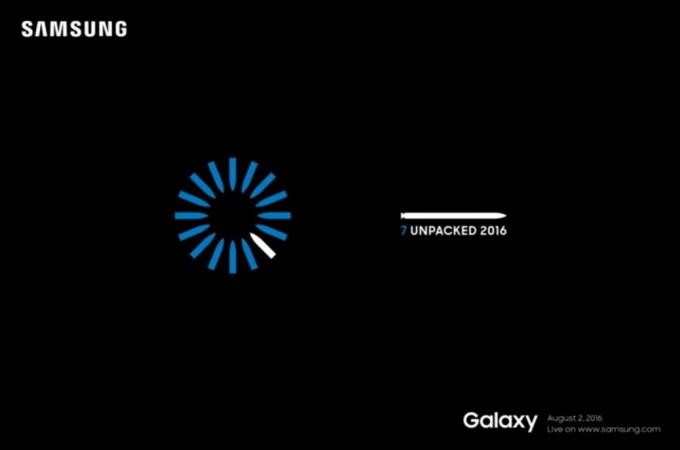 With less than a week left for Samsung's unpacked 2016 event, numerous leaks on Galaxy Note7 have begun to pile up on internet.
Everything that comes on the web can't be taken as genuine facts. To provide a better perspective on the upcoming flagship phablet, we have sifted through multiple reports and hand-picked seven key features which are most certain to make the cut in the Galaxy Note 5 successor.
Here are the 7 most anticipated features of Samsung Galaxy Note7:
Dual-edge display:
Recent leaked images of Galaxy Note7 have indicated that it would have dual-edge curved display wherein phone's screen will extend towards the edge on both right and left side. It is also said to come with "Always On" feature, wherein a certain section of display will always be active to show live notifications and time, so that users need not press the power button to open the phone to see the time or messages.
Read more: Samsung Galaxy Note 7 spied; leaked images reveal 2 design upgrades over Note 5
Front-LED flash:
Just a few hours ago, Samsung Korea posted the GalaxyNote7 pre-release TV commercial revealing key features. In the middle of the video clip, we see a lady holding a light bulb pointed to the face while taking a selfie on phone, hinting that the Galaxy Note7, in all probability, would boast dedicated LED flash on the front.
Water-proof certification:
In the same aforementioned teaser video, we see old 90's dialer-phones dropped in to the water giving an indication that the Galaxy Note7 will boast water-resistant certification. The Galaxy S7 series phone launched earlier this year too boasts Ingress Protection (IP) 68 certifications; we believe the upcoming phablet too will have the same feature.
Devices with IP68 certifications can survive 5-feet under water for close to 30 minutes. Users can also operate them and take snapshots under water (in fresh water swimming pool/river/pond, not salty ocean or sea.)
Watch the Samsung Korea's official Galaxy Note7 pre-release TV commercial video ad:
Iris scanner:
Earlier in the month, Samsung posted a teaser image on its official website to fans revealing the Galaxy Note7 launch date and venue details.
In the picture, the company promised that the new Galaxy Note7 will boast advanced version of S-Pen stylus and bigger screen, but on closer observation, we can notice a ring made of blue-hued pen-like silhouette and one white line forming an Iris pattern seen in the Eye, hinting that the new phone will come with ocular-based biometric technology.
Samsung has already launched the Galaxy Tab Iris in India. So it's safe to assume that the Galaxy Note7 will come with the Iris sensor technology. It is also expected to come with fingerprint sensor on home button as well.
Also read: Samsung Galaxy Note7 release date announced; teaser hints at one game changing security feature
How Iris scanner is superior to fingerprint sensor?
Iris Recognition is said to be more advanced and near-foolproof security system, as it involves camera technology with subtle infrared illuminations to capture the detailed nerve pattern on the iris in the eye.
Using this information, digital impressions are created by mathematical and statistical algorithm so that an accurate profile is created. This new-age biometric technology is nearly impossible to be cracked by an imposter, unlike finger-print scanner that can be bypassed with a fake thumb print.
Read more: Samsung launches Aadhaar-compliant Galaxy Tab Iris in India
Huge storage and RAM capacity:
Multiple reports have indicated that the Galaxy Note7's base variant will come with 64GB storage backed by 6GB RAM. Once launched, Samsung will be the first tier-1 branded company to launch a flagship smartphone with such a huge storage. Rivals Xiaomi and OnePlus too offer this specification, but not in the base variant category.
System-on-Chip:
Just a few weeks ago, Qualcomm unveiled the Snapdragon 821 SoC (System-on-Chip), the company's most powerful processor yet. It is said ot be faster and 10 percent more efficient than Snapdragon 820 seen in the Galaxy S7 series and other flagship phones.
Word on the street is that Samsung will use this new Qualcomm chipset in the Galaxy Note7 bound for developed markets such as America, Europe and in China.
Other markets, including India, is expected to receive the Galaxy Note7 models featuring 14nm (nanometer) FinFET architecture-based Samsung Exynos 8893 octa-core CPU.
USB Type C port:
Recently leaked images of Galaxy Note7 image hinted that the device will have Type-C USB port. With this feature, users need not worry about orienting the charging port while plugging as its works in reverse as well.
Bonus feature:

Multiple reports have indicated that the Galaxy Note7 will boast a 3,600mAh battery, 20 percent more than in its predecessor. It will be able to play high resolution videos for 20.5 hours.
This is impressive considering the fact that the Galaxy Note7 will boast 5.7-inch QHD (2560x1440p) resolution screen.
Read more: Samsung Galaxy Note 7 (aka Note 6) battery details surface online
We are just four days away from the Samsung Galaxy Note7 launch date; the company in a bid to create buzz around the new device is expected to tease few more key features.
Watch this space for more updates.