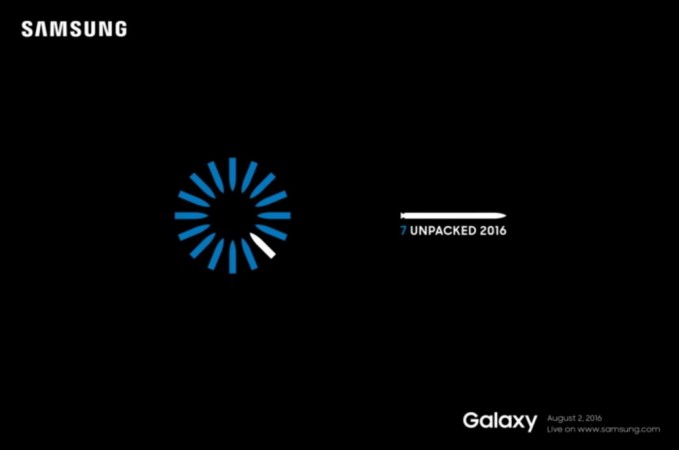 Leading smartphone maker Samsung officially announced that it would unveil its 2016 series flagship phablet early next month in three different continents.
Samsung also confirmed that the company will be launching the Galaxy Note7, not Note6, thus, ending months of conflicting rumours over the moniker of the device.
"First and foremost though, you might be curious as to why it's called Galaxy Note7 instead of Galaxy Note6. There are a couple reasons why. First, the Galaxy Note7 will complement our Galaxy S7 and S7 edge, and unify our product portfolio. Second, the Galaxy Note7 will minimise confusion about the latest mobile technology from Samsung, and provide full alignment with Galaxy S smartphone," Samsung reasoned on jumping the name order from Note5 to Note7.
The company will be hosting the "Samsung Galaxy Unpacked" event at 11:00 a.m. EDT (8:30 p.m. IST) in New York City on Aug. 2, 2016 and later in Rio de Janeiro at noon and in London at 4:00 p.m.
Press invite hints at advanced security feature coming in the Galaxy Note7:
In the invitation, the company has promised that the new Galaxy Note7 will boast advanced version of S-Pen stylus and bigger screen, but if you take a closer look at the poster, you can notice a ring made of blue-hued pen-like silhouette and one white line forming an Iris pattern seen in the Eye, hinting that the new phone will come ocular-based biometric technology.
Samsung has already launched the Galaxy Tab Iris in India. So it's safe to assume that the Galaxy Note7 will come with the Iris sensor technology.
How Iris scanner works?
"Iris Recognition" is said to be a more advanced and near-foolproof security system, as it involves camera technology with subtle infrared illuminations to capture the detailed nerve pattern on the iris in the eye.
Using this information, digital impressions are created by mathematical and statistical algorithm so that an accurate profile is created. This new-age biometric technology is nearly impossible to be cracked by an imposter, unlike finger-print scanner that can be bypassed with a fake thumb print.
Read more: Samsung launches Aadhaar-compliant Galaxy Tab Iris in India
Samsung Galaxy Note7: What we know so far
Besides the Iris scanner, Galaxy Note7 is said to come with fingerprint sensor on the home button and IP68 water-and-dust resistant certification.
It is said to feature 5.8-inch QHD screen, 0.1-inch bigger than its predecessor and also boast dual-edge curved display like the Galaxy S7 edge.
Other stipulated features of Galaxy Note7 include 6GB RAM, 64GB/128GB/256GB inbuilt storage, 13MP dual-lens camera, 5MP front snapper, 3,200mAh (or more), Snapdragon 821 quad-core or Exynos 8893 octa-core (depending on the region of sale).
Watch this space for more.