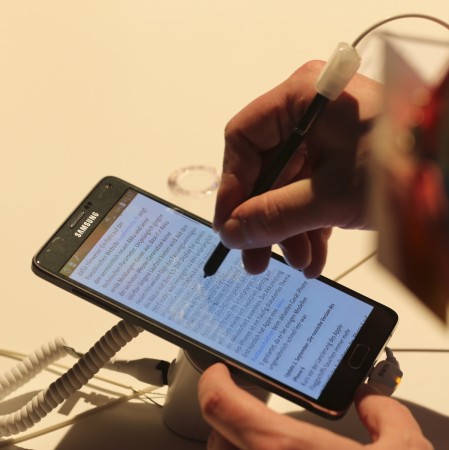 A few weeks ago, it had been reported that Samsung's new Note 7 (aka Note 6) would house a 4,000mAh battery. Now, reliable leakster Eldar Murtazin has claimed it will have much lesser cell capacity.
Murtazin (via Twitter) has disclosed that the Galaxy Note 7 will feature a 3,600mAh battery, just 600mAh more than its predecessor.
Though the upgrade is moderate, Murtazin says it will be more than enough to play high resolution videos for close to 20.5 hours under full brightness display option. That's an impressive feat for a device with a power guzzling 5.7-inch QHD screen. It is believed that the device will have battery power optimization feature we see in the Samsung's mid-range J series phones.
There is no proof to verify the authenticity of his claim, but Murtazin has a pretty good track record of predicting product's feature, especially with regard to Samsung handsets. He shot to fame in 2013, after accurately predicting the Galaxy S4 launch date and since then, he has been delivering consistently and we believe the battery details of Galaxy Note 7 is most likley to turn true.
Samsung Galaxy Note 7: What do we know so far
From what we have gathered so far, Samsung's Galaxy Note 7 is expected to feature 5.7-inch QHD (2560x1440p) and run on Android 6.0.1 Marshmallow OS, 6GB RAM, 12MP dual-camera lens, 5MP front camera and USB Type C port.
As far is its build quality is concerned, the Samsung phablet will have a mix of glass and metal with IP68 certifications.
Another notable inclusion is Iris scanner. The Galaxy Note 7 is said to house an advanced ocular-based biometric identification system, wherein the owner just needs to look to the device's front, it will the previously stored iris pattern and unlock the device.
It has also come to light that the Galaxy Note 7, based on region of release, will be made available in two variants based on SoC (System-on-Chip) — one will house the company's proprietary Exynos 8893 octa-core CPU and another will come with Qualcomm's Snapdragon 821 processor. Both the models will be offered in 64GB, 128GB and 256GB storages with option for expansion via micro SD card.
Rumour has it that Samsung's Galaxy Note 7 will break covers on Aug. 2. Watch this space for more updates.