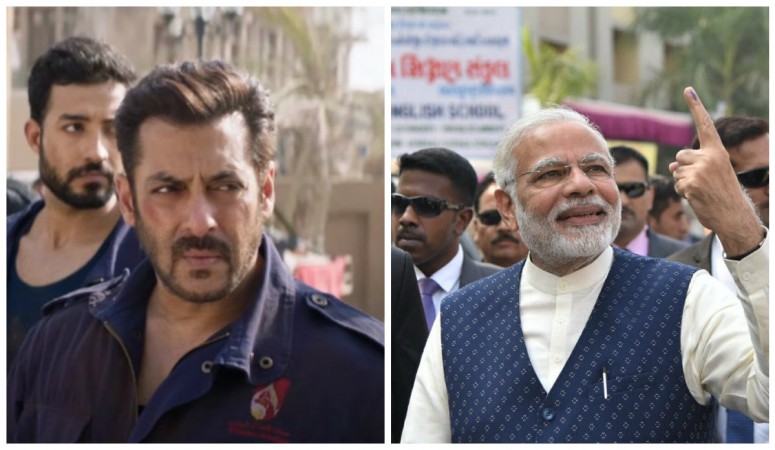 Tiger Zinda Hai mainly shows the bravery of Salman Khan's character and some security personnel from India and Pakistan, but the movie also has a connection to PM Narendra Modi.
The storyline of Tiger Zinda Hai is based on a 2014 true incident wherein 46 Indian nurses were kept as hostages by ISIS in Iraq. The film drew inspiration from this incident but portrayed a fictional account of the rescue mission by taking cinematic liberties.
However, Modi who had then just taken on the mantle as Prime Minister had reportedly played a pivotal role in rescuing the hostages, and thus the makers of Tiger Zinda Hai made sure to pay a tribute to him in the film.
"When the hostage crisis happened in 2014, Narendra Modi had just become the Prime Minister of India. It was a huge crisis for the government. Modi ji along with External Affairs Minister Sushma Swaraj and National Security Adviser Ajit Doval worked non-stop for 10 days to rescue all the Indian nurses held as hostage by terrorists in Iraq and brought them back to their homes, to their parents and family. Not a single bullet was fired during the mission and it showed the diplomatic clout that India had to the world. This incident inspired me a lot and I started writing a fictional film on the incident which became Tiger Zinda Hai," Bollywoodlife quoted director Ali Abbas Zafar as saying.
There is a scene in Tiger Zinda Hai where Paresh Rawal's character is seen asking Tiger if "PM sahab" is aware of the mission. Originally the makers had put the dialogue as "Modi ji ko pata hai?" but it was changed by the censor board as the film is fictional.
"In the film, we wanted to pay a homage to Narendra Modi ji. If you have noticed, during the rescue mission in Tiger Zinda Hai, Paresh Rawal asks Tiger if 'PM sahab' is aware of the mission. The original dialogue in the film was 'Modi Ji Ko Pata Hai?' as a tribute to him and the mission. However, since the entire film is a work of fiction, the censor board rightfully asked us to change it to 'PM sahab'. We respected their accurate decision as we were not retelling the exact details of the rescue mission," Ali added.
Tiger Zinda Hai has already become the highest grossing Bollywood movie of 2017 on its seventh day. The film's Indian box office collection reached Rs 206.04 crore net on Thursday, making it the biggest Bollywood film of this year.