Salman Khan-starrer Tiger Zinda Hai (TZH) is roaring at the box office, with its collection having crossed Rs 100 crore at the domestic market within just three days of its release.
The movie received positive response from most of the critics, and the strong word of mouth added to the craze around the action-thriller.
Tiger Zinda Hai has been having record-breaking run in the commercial circuits and is likely to become the biggest grosser of Bollywood in 2017 soon. Although with all the action and exotic picturisation, the flick is an entertaining one, there are a number of mistakes in Tiger Zinda Hai that one cannot ignore.
It is often said that Salman's films lack logic, and Tiger Zinda Hai validates that yet again. The sequel to Ek Tha Tiger has multiple loopholes that make any logic-seeking viewer exclaim "What? But how?"
Here is a list of some of the most visible mistakes in Tiger Zinda Hai that everyone — from the story-writer to the director — ignored, but we could not.
[Warning: SPOLER ALERT]
1) The conclusion of the film shows Katrina Kaif tied by a chain and Salman trying hard to break it, while an American drone is all set to bomb the entire building in just a few seconds. The next scene shows the building being destroyed with heavy bombing, but soon it is revealed that both Tiger and his wife are hale and hearty, leaving you clueless how he managed to break the chain, get himself and Katrina out of the big building and escape such heavy bombing in less than a minute.
2) Another similar instance happens when the antagonist leaves Salman tied with ropes inside a room with toxic gas being released in it. Again the director does not bother to show how he gets himself free, and even the toxic gas does him no harm. PS: Tiger is then seen knocking down all the gas-proof masked goons, covering his face with just his shirt. Looks like the toxic gas was as powerful as some mosquito repellant.

3) We know it is a Hindi movie, but showing Americans speaking such fluent Hindi seemed really stupid. The makers could have let the foreign stars speak their own language, and put Hindi subtitles below.

4) When the main villain holds both Tiger and Zoya captive, he finds some dramatic way of murdering them by keeping them tied in different rooms, instead of killing them straight away. Looks like Abu Usman's character is inspired to quite an extent by some of the more flamboyant Bollywood villains.

5) One of the most amazing scenes in the movie is Salman stepping out with a fully-loaded machine gun, and wreaking havoc on terrorists. He is seen coming out in the open and relentlessly firing at them.
He kills around at least 30-40 men equipped with guns in different directions, but not a single bullet hits him. Looks like these terrorists had bunked their shooting classes.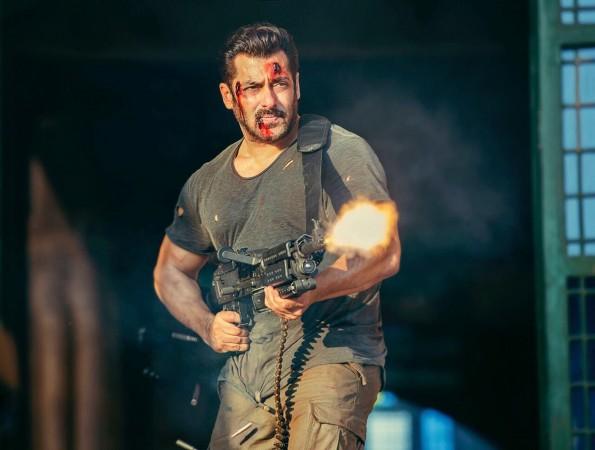 6) Salman and his team made the master-plan of entering the hospital where Abu Usman along with his big gang kept the nurses as hostage by injuring themselves in a deliberate blast. They were supposed to be admitted there as patients, but they walked inside as normally as if returning from a vacation. Why would a heartless terrorist agree to get these boys admitted at his hide-out when they don't even look like patients? Don't even hope to get an answer.

There are many more goof-ups in Tiger Zinda Hai, but the above-mentioned are the most prominent ones.