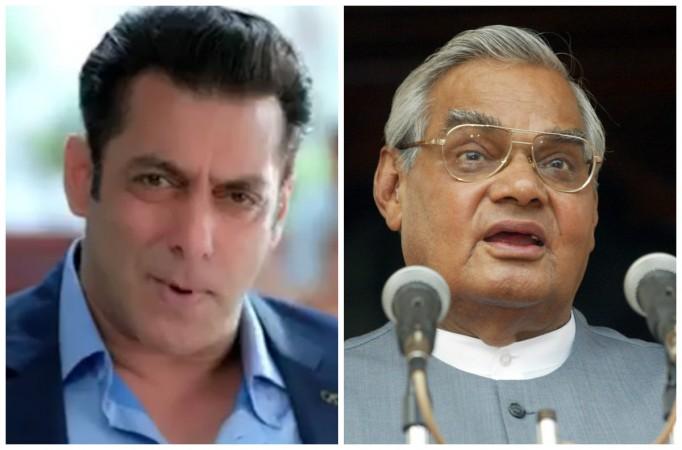 Salman Khan has joined the list of Bollywood celebrities who expressed condolence on social media at the death of former Prime Minister Atal Bihari Vajpayee. However, the fact that he is quite late in doing that gave netizens the chance to troll him.
Salman took to Twitter on Tuesday and expressed grief at the demise of the popular leader. "Truly a sad feeing to have lost a great leader, noble politician, orator and an exceptional human being like Atal ji [sic]," the Bharat actor tweeted.
However, it has been a week that Vajpayee died, and hence, many started trolling the superstar for tweeting about it so late. Also, there is a typo error in the tweet, for which also some made fun of Salman. Many started trolling him saying "Tiger so raha tha" and some others mocked him saying he was high on something.
A few hours after tweeting about Vajpayee's demise, he made another tweet expressing sadness at the Kerala floods that caused many deaths and destruction.
"Still deeply saddened by the calamity that has hit Kerala, my heart goes out to all who have suffered a loss and very happy to hear all the souls who have gone back to help out the victims. [sic]," he tweeted.
Bhai ab yaad aa rai hai...itno dino se kya gaanja marke so rahe the??

— Avi Kaushik (@avi_kaushik4) August 21, 2018
Wese feeing kya hota hai bhai?? ???

— Faizan Hamid (@TheSRKExpress) August 21, 2018
Bhai Ko koi Kerala ki news batao. Kahi phir sa na late hojaya.

— RAJESH SAH (@Rajeshsah87) August 21, 2018
Bhai paperless mai believe karte hain ,Internet explorer use karte hain aur e-paper padhte hain bhai.

— अmann (@amanprithviraj) August 21, 2018
Being late ho gye bhai.. bhai kisi Fanti k sath busy honge

— Brijesh meena (@UrsBrijesh) August 21, 2018
Breaking news : Failed actor Salman Khan praises BJP's Nehru.

— THE SKIN DOCTOR (@theskindoctor13) August 21, 2018
Criminal Nasheri hai ..Nasha karne k baad aaj neend khula hoga ???

— ? (@Aamirian_thug) August 21, 2018
Bada jaldi realise kiya bhai ne..woh bhee itnaa sad 'feeings' se bhara tweet!

— Fateem Ahmed (@philosofateem) August 21, 2018
Salman has been busy shooting for his movie Bharat in Malta, and hence, there is a possibility that he was not aware of the BJP leader's death or even of the Kerala tragedy.
Meanwhile, Katrina Kaif recently joined Salman on the sets of Bharat in Malta. Being directed by Ali Abbas Zafar, the film has been in news for various reasons. It was being talked about as Priyanka Chopra had walked out of it, and then Katrina Kaif came on board. This had given rise to speculations that Salman was upset with PeeCee.