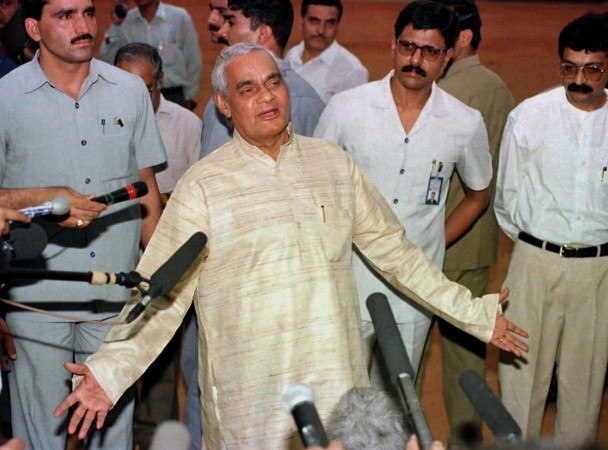 The demise of former PM Atal Bihari Vajpayee has come as a jolt. Apart from the Indian media, the world media has also paid respect to the great leader through his poems and quotes.
The BJP stalwart had done his best to take India to reach great heights that the world never imagined. His vast political knowledge and charismatic personality appealed to international political leaders who came forward to enhance their strategic relationship with India.
Whether it's Pakistan, Sri Lanka, Bangladesh or the US, foreign leaders have shown their affection through social media platforms to their late friend and one of India's great leaders. While calling him revolutionary, former Pakistan President Parvez Musharraf termed "Vajpayee's famed Agra summit as realistic."
The world media also paid tribute to Atal Bihari Vajpayee by calling him a gentleman and being "instrumental in strengthening India's international ties." BBC and The New York Times stated that he was the one who 'stunned the world by ending a decades-old moratorium on nuclear weapons tests'.
Dawn's article 'Vajpayee, partisan of peace with Pakistan, dies' focuses on the various summits, deals and meetings that were conducted under the guidance of Vajpayee when he was in power at the Centre. It also recalls his last visit in Pakistan during the Saarc summit in January 2004. Further, Dawn remembered him as the PM who "launched a groundbreaking peace process with Islamabad", and "a man untainted by corruption scandals".
However, it also said that the series of nuclear test conducted at that time made Pakistan suspicious about atomic war. Moreover, it quoted the newly elected Pakistan PM Imran Khan as saying that "Vajpayee's efforts for peace between Pakistan and India would always be remembered, adding that the late leader was a huge political figure in South Asia."
The Washington Post: The article "Atal Bihari Vajpayee, the prime minister who made India a nuclear power, dies at 93" talks about the efforts of the leader in making India a powerful nation in terms of nuclear power.
It also highlights the note how India was denounced by the then American President Bill Clinton aftermath of the nuclear testing. However, it appreciates Vajpayee efforts to initiate friendly dialogue with Clinton, who visited India in 2000, which was the first visit by the US president to the country in more than two decades.
It further talks about his charisma that helped the saffron party not only to rise to power but also direct a coalition with various regional parties.
The Guardian: He is remembered as the three-time Indian prime minister, a Hindu nationalist who set off a nuclear arms race with Pakistan and a political figure who begin a groundbreaking peace process across the border.
It recalled the relationship of India and Pakistan stressing on a historic bus ride to the Pakistani city of Lahore in 1999 and how he made the first step towards peace process with Pakistan after knowing that India's nuclear tests stoked fear in the country's neighbour. The Guardian even said that Vajpayee botched to see the world through a lens of black and white.
The New York Times referred Vajpayee as "the grandfatherly face of the world's most populous democracy". It remembered him as a leader who "stunned the world" by conducting the nuclear test at Pokhran.
It also praised Vajpayee's determination to relieve tensions with Pakistan and build closer ties with the US. In addition, it also appreciated his efforts to support equal rights for other communities especially Muslims in an "overwhelmingly Hindu nation".
Time called the former PM a "onetime journalist and a lifelong poet." The article recalls the incident when Islamabad sent fighters across the cease-fire line in the disputed Himalayan region of Kashmir and Vajpayee opposed the military pressure to commence a broad retaliation of Indian forces.
It says that it was his efforts that India earned international praise for its caution at that time. It focuses on Vajpayee's response to anti-Muslim riots of Gujarat in 2002 when he said that "he could not understand how Hindus could burn women and children alive." In a program, the statesman said, "Have we lost our way so much that we cease to be humans?"