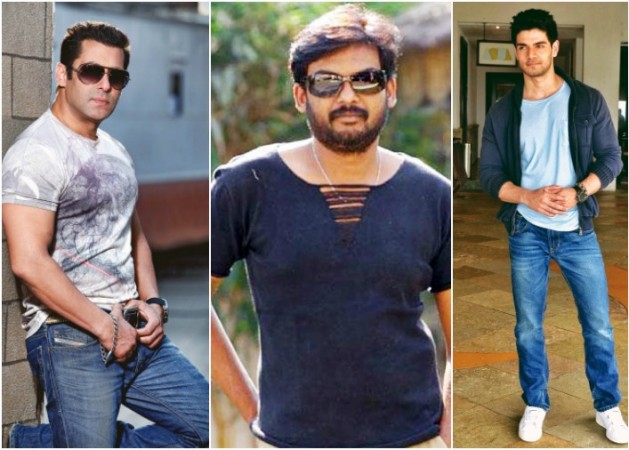 Popular Tollywood director Puri Jagannadh has revealed that Salman Khan is impressed with the story of his upcoming Telugu movie Rogue. He also hinted that he might direct Sooraj Pancholi in his next film.
Director Puri Jagannadh recently released the first look and motion poster of Rogue, which marks the acting debut of Ishan in Kannada and Telugu. These promos grabbed many eyeballs and raised curiosity on the film. Days after the launch, the director met Bollywood superstar Salman Khan in Mumbai. Several rumours about their meeting were doing rounds in both Telugu and Hindi film industries.
Now, Puri Jagannadh has released an official statement about his meeting with Salman Khan. The director says that he narrated the story of Rogue to the actor, who was impressed with the movie. But his statement released to media does not make it clear that whether Bollywood star would act in its Hindi remake.
"I recently met Salman and narrated Rogue to him. Salman immensely liked the unique flavour of love story in 'Rogue'. Salman was excited with the idea of 'Rogue', which is about an arrogant boy who is kind at heart finds himself in extraordinary situation," Puri Jagannadh said in the statement.
Salman Khan had asked the director to write a story for Suraj Pancholi. Puri Jagannadh says that he has narrated some scripts for Aditya Pancholi's son. "I also narrated other stories to him. Salman told me that he wants to produce a film with Sooraj Pancholi and is looking for good scripts. One of the stories will be finalised soon," the director added.
Salman Khan starred in the Hindi remake of Puri Jagannadh's Pokiri – Wanted, which became a superhit at the box office. Ever since, the actor has high regard for the director. Puri is a big fan of Salman. The director says that he often meets the superstar to discuss various subjects and their meetings are always fun-filled and unforgettable.