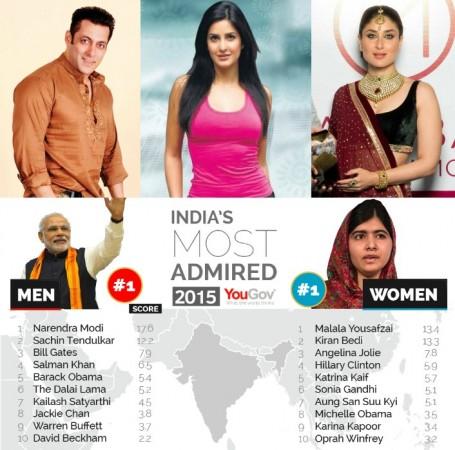 Bollywood stars Salman Khan, Katrina Kaif and Kareena Kapoor have made it to the top 10 list of India's 'Most Admired Men and Women', according to an online poll conducted by London-based market research firm YouGov.
Also, superstar Salman Khan is the only Bollywood actor to be listed in men's category. He occupies the fourth spot with a score of 6.5.
Interestingly, actress Katrina Kaif has beaten Congress party president Sonia Gandhi to occupy the fifth place. Kareena Kapoor is placed ninth in the list.
Prime Minister Narendra Modi is the most admired man, while cricketer Sachin Tendulkar and Microsoft founder Bill Gates occupty the second and third slots respectively.
About 25,000 people from 23 countries participated in the poll that was conducted in two phases, in December 2014 and January 2015.
Initially, responses were sought from panelists in 34 countries to list their most admired men and women, which was then compiled into a list of 25 men and women.
In January, 23 of the 34 countries were asked to participate again, in which they had to list down who they truly admired and who they admired the most. The observations from both the rounds were combined to arrive at the final list.
Here is the list of India's top ten 'Most Admired Men and Women'
Most Admired Men:
| | | |
| --- | --- | --- |
| Rank | Name | Score |
| 1 | Narendra Modi | 17.6 |
| 2 | Sachin Tendulkar | 12.2 |
| 3 | Bill Gates | 7.9 |
| 4 | Salman Khan | 6.5 |
| 5 | Barack Obama | 5.4 |
| 6 | The Dalai Lama | 5.2 |
| 7 | Kailash Satyarthi | 4.5 |
| 8 | Jackie Chan | 3.8 |
| 9 | Warren Buffett | 3.7 |
| 10 | David Beckham | 2.2 |
Most Admired Women:
| | | |
| --- | --- | --- |
| Rank | Name | Score |
| 1 | Malaa Yousafzai | 13.4 |
| 2 | Kiran Bedi | 13.3 |
| 3 | Angelina Jolie | 7.8 |
| 4 | Hillary Clinton | 5.9 |
| 5 | Katrina Kaif | 5.7 |
| 6 | Sonia Gandhi | 5.1 |
| 7 | Aung San Suu Kyi | 5.1 |
| 8 | Michelle Obama | 3.5 |
| 9 | Kareena Kapoor | 3.4 |
| 10 | Oprah Winfrey | 3.2 |