Badminton ace Saina Nehwal said she is on the right track and is confident of getting back to full fitness in the coming months after what had been a mixed year for the women's singles shuttler in 2017.
Nehwal was struggling to recover fully from the knee injury that hampered her Rio Olympic dream in 2016. The London Olympic bronze medallist crashed out of the Games last year in the league stages as she suffered the injury days ahead of the quadrennial global spectacle.
The Hyderabad shuttler, who was in Bengaluru on Sunday for Fit Families Fest by Herbalife Nutrition, added she found it difficult to express herself freely in 2017 as well as she did not want to risk putting a lot of load on her troublesome right knee.
"Coming out of a surgery is not an easy thing. Regardless of whether it was minor or major, it will definitely affect stamina and endurance. You're losing out three or four months of your time there. It takes two months of rehabilitation, another two months to get back into the shape," Nehwal said.
Also read - Don't think I am the best in the world right now: Kidambi Srikanth tells IBTimes India
She added: "It might take sometimes a year and year and a half to get back to full fitness. You tend to hesitate to do some movements as I was putting a lot of load on the right knee."
'World Championships medal big confidence-booster'
Nehwal revealed that her World Championships bronze has given her a lot of confidence about her game and fitness.
The world number 10 started the year on high by winning the Malaysia Masters title but struggled to even reach the final stages of Superseries tournaments.
However, the 27-year-old came up with an inspired performance at the world meet in Glasgow, world number five Sung Ji Hyun and in-form Kristy Gilmour before losing to eventual champion Nozomi Okuhara in the semi-final.
Buoyed by the improved showing in Glasgow, Nehwal also went on to win the National Championships in November, beating PV Sindhu in the final.
"For me, it was a year, in which I played the toughest matches, but I lost out to the toughest players in the world, who are right now winning all the titles," Nehwal said.
"In fact, I was happy that I could get the World Championships bronze because it gave me confidence that I am coming back into good condition. I am on the right track."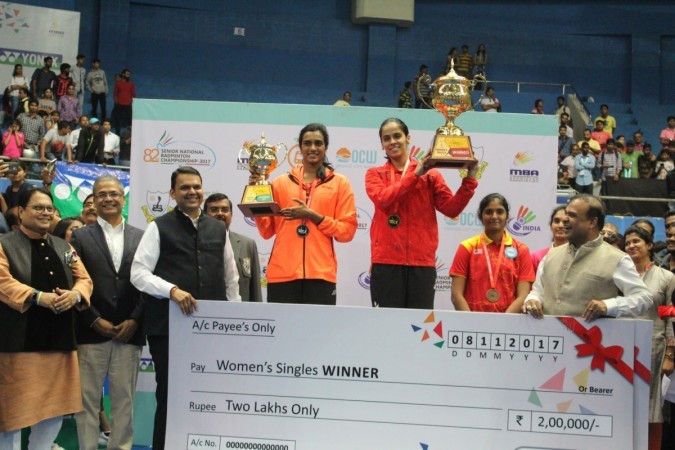 Blessing in disguise?
Nehwal will miss the season-ending World Superseries Finals, starting December 13 in Dubai, which is "tough to accept". But the seasoned campaigner is willing to look at the positive side.
Also read: Full list of players qualified for Dubai season finale
"It [missing Dubai World Superseries Finals] is a good thing because I can train. It is definitely tough to accept but it was because of my injury, otherwise I could have played," Nehwal said.
"Luckily now I have close to six-seven weeks where I can train and get back to full fitness. I don't even feel about the matches which I played because I am coming back and giving my opponents a tough fight. That's what is important."