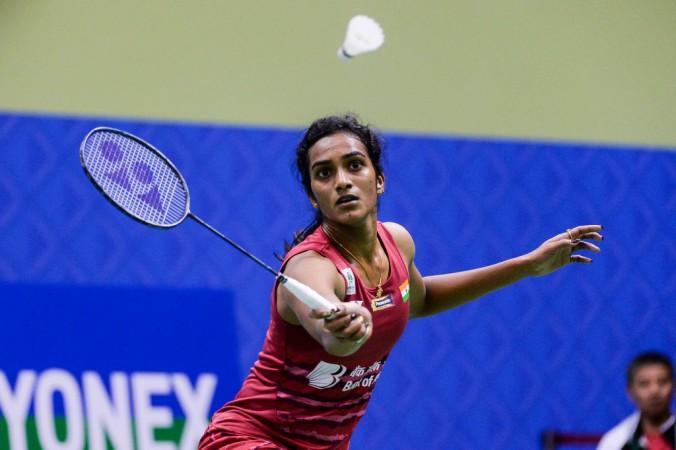 PV Sindhu and Kidambi Srikanth will represent India at the BWF Dubai World Superseries Finals, starting December 13 in Dubai.
While the two Indian shuttlers, who won multiple titles in 2017, made the cut, world number 10 HS Prannoy (men's singles) and Saina Nehwal (women's singles) failed to qualify for the tournament despite having been in the fray at the start of November.
Saina, Prannoy fail to qualify
Nehwal finished on the 11th spot in Destination Dubai Rankings with 44,280 points, just 4,270 points behind eighth-placed Chen Yufei, who is likely to lose her spot to reigning world champion Nozomi Okuhara as the Japanese star has been handed a wildcard to the year-ending tournament.
Despite finishing with a bronze at the Glasgow world meet in August, Nehwal did not win a single Superseries title in 2017. The 27-year-old, who battled injury concerns early in the season, did not manage to go past the quarter-final of Superseries tournaments in the season.
She let go off a final few chances earlier this month as she suffered second-round exits at China and Hong Kong Open and will now miss the year-ending tournament for the second time in as many years.
On the other hand, Prannoy, who reached his career-best ranking of world number 10 this year, showed flashes of brilliance when he stunned Lee Chong Wei (twice) and reigning Olympic champion Chen Long, but the 25-year-old failed to keep consistency. His chances to join the elite-eight in Dubai were thwarted after he finished the season with early exits in Hong Kong and Dubai.
Sindhu, Srikanth among top-five
Meanwhile, Srikanth, who has won a record four Superseries titles this year, qualified to the season-finale on the second spot behind South Korea's Son Wan Ho. Sindhu, who won India Open and Japan Open and finished as runner-up at World Championships, qualified at the fourth position among eight women's singles stars.
Chen's late-season surge earns him Dubai berth
Chen's late-season form has helped him clinch the spot. The Chinese men's singles star was languishing at No 20 in the Destination Dubai Rankings in early November following a run of below-par results by his standards. Chen finally turned it around on home turf at the Tahoe China Open, clinching the title and vaulting 11 places to No.9.
He followed that up with another strong showing at the Yonex-Sunrise Hong Kong Open, finishing runner-up to Lee Chong Wei. His Hong Kong Open performance elevated him to No.7, ensuring his qualification as the second-ranked Chinese player below Shi Yuqi, who qualified in third.
Lee Chong Wei in good form
Malaysia great Lee Chong Wei qualified at fourth place after some fine performances towards the end of the season, which includes his win at Hong Kong Open earlier this month. On the other hand, his nemesis, Lin Dan, will miss out after failing to be consistent in 2017.
Defending champions Viktor Axelsen and Tai Tzu Ying will once again start as favourites after what has been a solid year for the two world number one shuttlers.
Marcus Fernaldi/Kevin Sanjaya favourites
Indonesia's Marcus Fernaldi Gideon and Kevin Sanjaya Sukamuljo have been in irresistible form this season with six Superseries titles, making them the top qualifiers in Men's Doubles.
The second spot, nearly 18,000 points behind, is occupied by Denmark's Mathias Boe/Carsten Mogensen, followed by two Chinese pairs – Li Junhui/Liu Yuchen, and World champions Liu Cheng/Zhang Nan. Another Danish pair – Mads Conrad-Petersen/Mads Pieler Kolding – have qualified in sixth.
Full list of qualifiers
MEN'S SINGLES
1. Son Wan Ho (Korea)
2. Kidambi Srikanth (India)
3. Shi Yuqi (China)
4. Lee Chong Wei (Malaysia)
5. Chou Tien Chen (Chinese Taipei)
6. Ng Ka Long (Hong Kong)
7. Chen Long (China)
8. Viktor Axelsen (Denmark)
WOMEN'S SINGLES
1. Akane Yamaguchi (Japan)
2. Tai Tzu Ying (Chinese Taipei)
3. Sung Ji Hyun (Korea)
4. Pusarla V Sindhu (India)
5. Ratchanok Intanon (Thailand)
6. Carolina Marin (Spain)
7. He Bingjiao (China)
8. Nozomi Okuhara (Japan)
MEN'S DOUBLES
1. Marcus Fernaldi Gideon/Kevin Sanjaya Sukamuljo (Indonesia)
2. Mathias Boe/Carsten Mogensen (Denmark)
3. Li Junhui/Liu Yuchen (China)
4. Liu Cheng/Zhang Nan (China)
5. Takeshi Kamura/Keigo Sonoda (Japan)
6. Mads Conrad-Petersen/Mads Pieler Kolding (Denmark)
7. Lee Jhe-Huei/Lee Yang (Chinese Taipei)
8. Takuro Hoki/Yugo Kobayashi (Japan)
WOMEN'S DOUBLES
1. Shiho Tanaka/Koharu Yonemoto (Japan)
2. Yuki Fukushima/Sayaka Hirota (Japan)
3. Chen Qingchen/Jia Yifan (China)
4. Christinna Pedersen/Kamilla Rytter Juhl (Denmark)
5. Chang Ye Na/Lee So Hee (Korea)
6. Jung Kyung Eun/Shin Seung Chan (Korea)
7. Yu Xiaohan/Huang Yaqiong (China)
8. Hsu Ya Ching/Wu Ti Jung (Chinese Taipei)
MIXED DOUBLES
1. Zheng Siwei/Chen Qingchen (China)
2. Lu Kai/Huang Yaqiong (China)
3. Tontowi Ahmad/Liliyana Natsir (Indonesia)
4. Tang Chun Man/Tse Ying Suet (Hong Kong)
5. Praveen Jordan/Debby Susanto (Indonesia)
6. Chris Adcock/Gabrielle Adcock (England)
7. Tan Kian Meng/Lai Pei Jing (Malaysia)
8. Kenta Kazuno/Ayane Kurihara (Japan)