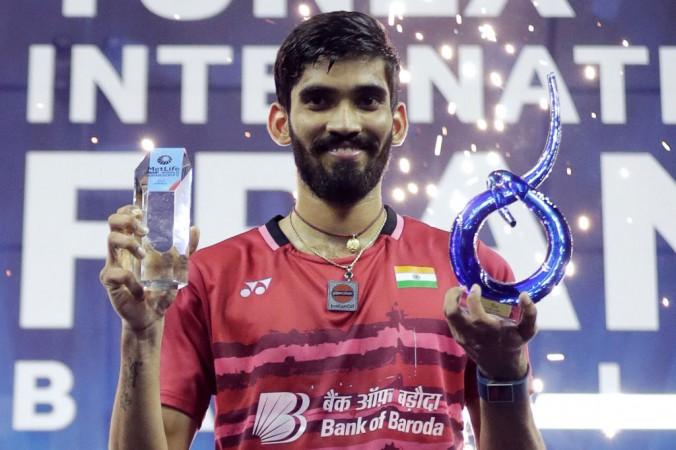 If numbers are anything to go by, it is safe to say Kidambi Srikanth is the best men's singles badminton player going around today. The 24-year-old from Guntur has taken the circuit by storm in the ongoing season, winning four Superseries titles.
To put things into perspective, only three other players - decorated Olympian Lin Dan, reigning Olympic champion Chen Long and Malaysia great Lee Chong Wei - have been able to win four or more titles in a calendar year.
From well-renowned badminton commentator, Gillian Clark, to ardent fans of the sport, many rate him among the best, but Srikanth himself does not want to. The six-time Superseries champion says he "needs to improve a lot".
Srikanth, who was naturally a swift-mover and attack-minded, showed a lot of potential at an early stage in his career. The Pullela Gopichand-ward won his first Superseries title - China Open - by stunning five-time world champion Lin in straight games at his own backyard. He then went on to win the India Superseries the following year.
However, Srikanth was not able to convert the early signs of brilliance into consistent results until you-know-when. At Rio Games last year, he came close to winning a bronze when he forced a decider in the quarter-final against Lin, but agonisingly fell short in a three-game marathon.
Cut to 2017, Srikanth is able to close out matches at an unprecedented consistency. His ability to stay calm in crisis situations has made life difficult for his opponents. Also, he certainly seems to be among the fittest in the men's singles circuit.
While Srikanth's career graph would see a huge spike in 2017, the recent results are not just because of some drastic changes to training but part of a "gradual process" that he has been undergoing over the last two years, according to the shuttler.
The hot property of Indian badminton spoke to International Business Times, India about what has been a dream year. From Rio Olympics disappointment to officially becoming the best player in the world, the Hyderabad shuttler opened up about a range of aspects that he thinks are crucial to his new-found consistency.
Here are excerpts
IBT: Did you ever think of doing what you have done in 2017?
Srikanth: Never. I did not think about four titles in a calendar year ever.
IBT: What do you think is the difference between Srikanth of 2015, 2016 and the Srikanth of 2017? The reason behind the consistent run?
Srikanth: I think it is the amount of work we have been doing for the last couple of years. It is really helping me now. It has been a gradual process.
IBT: How are you preparing to handle the burden of expectations now?
Srikanth: Expectations will definitely be there now. But I am not really thinking about it. I am not looking at it as pressure. I really want to focus on every single match I am playing, nothing else.
IBT: What do you have to say about comparisons to greats? Do you believe Viktor Axelsen and yourself are the best in the world at the moment?
Srikanth: I don't really think so [the best in the world]. I still feel I need to get better. It's always good to hear these statements [comparisons], but I feel I need to improve a lot. Not anything specific, but it's about the overall game.
IBT: Thoughts on achieving the number one rank?
Srikanth: I am not really focussed on that. For me, it's important to consistently play well.
Remember a meeting when @sachin_rt told @srikidambi when he was World No.3,Don't worry No.1 will also happen.He is now No.2. One more to go?

— Vikram Sathaye (@vikramsathaye) October 31, 2017
IBT: Will you play the upcoming Superseries tournaments in China and Hong Kong? Or will you directly play the World Superseries Finals?
Srikanth: For now I am playing both of them [China and Hong Kong Open]. If there is anything, I will decide after the ongoing National Championships.
IBT: What is the motivation to stay fit?
Srikanth: I think when you want to win, you want to automatically train more. Fitness is really important for our sport. You need to be fit to consistently play, to play for two successive weeks.
IBT: What do you do to relax, take your mind off the pressures of the game?
Srikanth: Nothing much. I want to stay back home. I usually sleep to relax.
IBT: Do you read comments on social media? If yes, how does it affect you?
Srikanth: It doesn't really affect me. Moreover, I am not into social media that much.
IBT: Secret behind your ability to make comebacks?
(Over the course of four title-winning campaigns in 2017, Srikanth has come from behind four times. He has been pushed to play decider four times as well.)
Srikanth: I think, it's about just staying positive. To not think of letting it go and fighting until the end is what is helping me.
IBT: How did Rio Olympics disappointment affect you?
Srikanth: I think I took only a couple of day's break after returning to India. I was playing tournaments immediately after the Games. In one of those tournaments - Japan Open - I got injured [right ankle injury].
Overall, they [the Rio Games exit and the injury that followed] really made me to train more. I played my best there, but I could not win. That made me determined to train more.
IBT: Mulyo Handoyo has said he sees a Taufik Hidayat in you. How much of his input has helped you become the player you're?
Srikanth: I think he [Handoyo] definitely has had a huge impact. He has great experience, he has been coaching for more than 30-35 years. It's always good to have an experienced coach.
IBT: Differences in coaching styles of Handoyo and Pullela Gopichand?
Srikanth: Obviously, there are few differences [in the way they operate]. Not every coach thinks the same way. The perspective changes with every coach. It helps as well.
Quick smashes with Srikanth
Favourite sport - Football, Tennis
Favourite sports persons - Roger Federer, MS Dhoni
Favourite food - South Indian. Biryani is also fine (when quizzed).
Favourite movie: I liked Baahubali.
Do you watch TV series: Not really. I don't have enough time to watch them.
Favourite holiday destination: [Laughs] If I get some time, I don't really want to go anywhere.