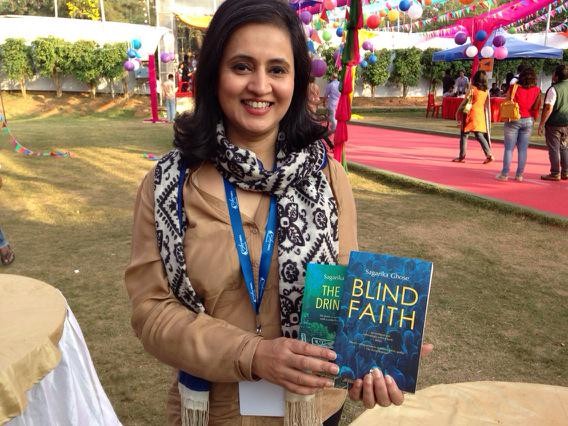 Noted journalist and author Sagarika Ghose was vehemently trolled on social media over a tweet in which she accused Hindus of throwing "semen-filled" balloons on female students before Holi.
A number of girls from Delhi University have stated that they were hit with balloons allegedly filled with semen. Talking about the shameful incident on Twitter, Ghose irked many by stating that if "semen-filled balloons are now an expression of Hindu pride during Holi".
"This is shameful and disgusting. Are semen-filled balloons now an expression of "Hindu pride" during Holi? [sic]," Ghose tweeted.
The journalist, who often faces backlash for controversial tweets, got trolled by a section of social media users, who questioned the reason behind her tweet. Many also pointed out that the incident happened before Holi, and so, there was no need to connect it with the festival.
Some also stressed the point that it is not confirmed if the "sticky" substance inside the balloons were semen. Many also pointed to the fact that one of the miscreants in the case was a girl.
While some of the criticisers of Ghose settled down by just questioning her tweet and slamming her for giving it a religious color, some trolled her making various memes and saying that she has the talent of knowing someone's religion by his semen.
Most of the memes include Nana Patekar's popular dialogue from a film where he asks a man to bring out the difference between blood of a Hindu and that of a Muslim man. However, the word blood got replaced by semen in the memes.
Check some of the tweets slamming and trolling Ghose for her tweet.
Doctor : Ultrasound can identify if the kid in your womb is a male or female.

Sagarika : Bit** please! I can identify the religion, race, caste and gotra by looking at the semen itself!!!

— THE SKIN DOCTOR (@theskindoctor13) March 1, 2018
We need Nana Patekar now... Ye Hindu ka semen ye Muslim ka semen.. bata isme musalman ka kaunsa Hindu ka kaunsa.. saale banane wale ne isme farq nahi kiya tum kaun hote ho farq karne wale pic.twitter.com/S9VZPnX5lm

— Mohit ? (@sailorsmoon) March 1, 2018
Bringing communalism into everything.. just another day in the life of bunty-babli of journalism.. amazing how twitter allow them to tweet such stuff.. pic.twitter.com/BdMHNluE1c

— Keh Ke Peheno (@coolfunnytshirt) March 1, 2018
ROFL....this has to be lamest and stupidest argument by a journo ever! I cant laugh enough to actually see a senior journo linking a HINDU semen just because it was thrown in Holi..I cant argue more over this dumbness! Maaf karo please n dont make me laugh this much!!

— FemiNoise (@mallika_dutt1) March 1, 2018
Meanwhile, several teachers and female students in Delhi staged a protest outside the Delhi Police Headquarters on Thursday, demanding more security for women.
A female student of Jesus and Mary College (JMC), who became the latest victim of the menace, has reportedly shared one such shameful incident on social media.
"Till yesterday, I had just heard about semen throwing at girls and my heart was broken to hear it. Today I was the victim to it and that was when I wholly realized and understood the absolute depravity of human beings. I would have said humans behave like animals but then that's a disgrace to animals in itself," she wrote.