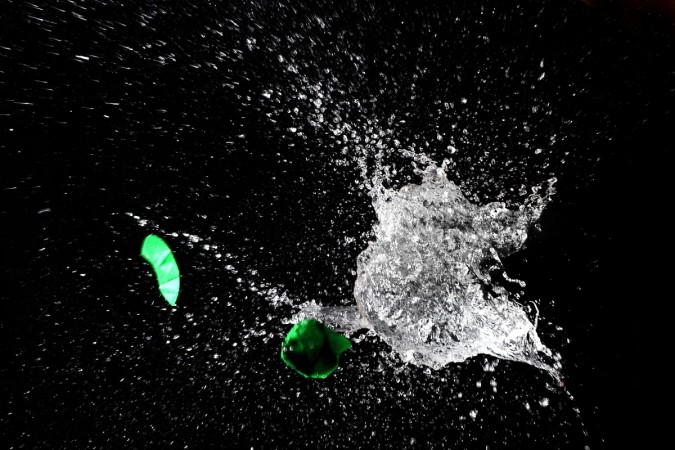 Days after a female student from Delhi's Lady Shri Ram College for Women alleged that a few men had hurled a "semen-filled balloon" at her, another student from Delhi University (DU) — this time from Jesus and Mary College (JMC) — has complained of a similar incident.
The female student was reportedly on her way back home in Dwarka, and was at the Sagarpur colony bus stop in Delhi when the incident happened. She even wrote a detailed Facebook post about it.
While people around her chose to ignore the incident, a middle-aged woman traveling with her said "Bura na maano Holi hai", reported Indian Express.
"As soon as I realized what had happened, I looked out but found nobody there. The bus started moving meanwhile," the girl was quoted by the daily as saying.
Here's the full text of the Facebook post shared by the girl about the incident:
"So the festival of 'fun' is here! Time for colours, eggs, dirty water and oh how can I forget the most important one- SEMEN.

It was just another usual day of travelling back home from college..
The bus stopped a little after Sagarpur bus stop. And that's when it happened.
Before I even realised it, a guy threw a balloon filled with semen straight at my chest. For a few minutes I was just shocked and by the time I recovered from it, he and his friends were gone. I was DISGUSTED and really furious. And that's when a lady sitting in front of me said, "Beta, Bura mat mano holi hai" And the others in the bus laughed and said the same to me. I didn't know whom to be more disgusted on- the idiot who threw it or the crowd who normalised it.

Till yesterday, I had just heard about semen throwing at girls and my heart was broken to hear it.
Today I was the victim to it and that was when I wholly realized and understood the absolute depravity of human beings.
I would have said humans behave like animals but then that's a disgrace to animals in itself.

Yesterday, it was a girl from LSR, Today it was me, and there are plenty of girls with whom this is happening, who are just too afraid or embarrassed to speak up. And I don't blame them but then if we don't speak up now, these fools roaming around our country will continue doing the same and God forbid another innocent girl might get targetted.

And to all the girls out there,
Do not be afraid to speak up when such things happen to you. Your dignity and self Respect is important and not something to be fooled around with.

Be bold and take a stand, rest assured there are many like me who will have your back."
While the girl is yet to file an FIR, students from the LSR College on Thursday staged a protest outside Delhi Police Headquarters in ITO demanding strict action against the perpetrators in the first case.
Meanwhile, a Facebook post by "concerned JMC students and teachers" on Wednesday said they would be protesting outside the Delhi Police HQ on Thursday against the alleged incident. Here's the post: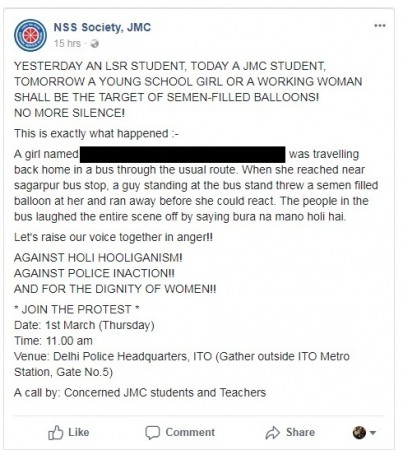 Women's rights activist and JMC professor Maya John told Indian Express on Thursday: "Tomorrow it could be anybody else. The police seem to be taking inadequate measures. They should have alerted Residents' Welfare Associations before Holi and ensured the security of women, so there are no such unwarranted attacks."
Meanwhile, Monika Bharadwaj, additional DCP of Southwest Delhi, told Indian Express that she had not received any complaint so far and that a police team would try to approach the victim from JMC for details regarding the incident.
Meanwhile, many people on social media raised concerns over the repeated incidents of semen-filled balloons being hurled at girls.
Shameful, its Holi festival color. i never ever threw balloon on any women, even didnt allow my bros , always stopped if i found someone , protected friends(girl) by walking by thr side. nw its height semen and urine ?Be mard perverts, https://t.co/rKLauNKVnk

— AasifSultan (@AasifOO7) March 1, 2018
On the other hand, a few even questioned the veracity of the complaints of the girls. Some of them even took to trolling.
Yet others said that it was a girl who had hurled the balloon at the female students.
Semen filled balloon? Really? Was it Hulk who ejaculated so much tht a balloon was filled? Idiocy of so-called feminists is reaching to new low...&now they r advising #HoliNotHooliganism .For what? Playing gender card to get media attention or getting their due from missionaries?

— Avinash Singh?? (@Chain_Smokerrr) March 1, 2018
Do you think filling balloonS with semen is even possible? You know how many men would be required to fill even one balloon with semen?

— Rigsang Tenzin (@RigsangTenzin) March 1, 2018
Whoever is throwing semen filled balloon must be caught and examined. He can help pharma industry to produce next level of viagara capsules

— Girish S Hinduman ⛳⛳⛳?? (@girishs2) March 1, 2018
200 ml water balloon allegedly filled with semen. 3.2 ml semen per ejaculate. That makes it 62 wanks to fill the balloon. Hey police, stop everything and look for a corpse I say. pic.twitter.com/lpDFdrFLGl

— Rofl Indian (@Roflindian) March 1, 2018