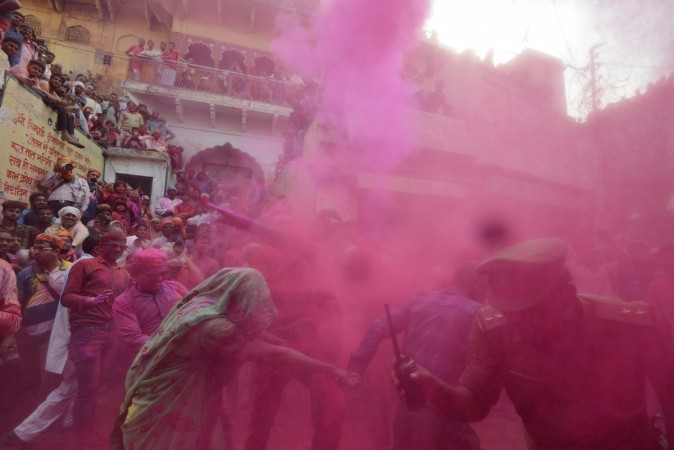 Under the guise of Holi celebrations, a student from Lady Shri Ram College for Women in New Delhi has claimed that she was at the receiving end of a sick prank when a group of unidentified men threw a 'semen-filled' balloon at her. On her Instagram post uploaded on February 24, the girl said that she was out with her friend at the Amar colony market in Delhi, when a few men threw a liquid-filled balloon at her from an auto-rickshaw as onlookers walked nonchalantly in the crowded area.
The incident came to light when the girl who had gone out with her friend returned to her hostel. She realized that the content of the balloon had seeped into her legging. She realized that the liquid was 'sticky and smelly', following which the girl from Nagaland wrote a two-part post on Instagram describing her shocking experience.
"It dried white on my black leggings. I did not guess what it really was. Only when I returned to my hostel to hear another friend of mine talking about semen-flinging. Not a single person in that busy market batted a single eyelid at the sight of men throwing such balloons," the girl wrote on her Instagram profile describing her harrowing experience.
"I didn't know what semen flinging was, I learnt that today. My kurti tells the tale," she wrote.
The girl has claimed in her Instagram post that she has been a victim of harassment ever since she moved to Delhi seven months ago. She had also been called derogatory names in the past.
The post soon went viral as social media users supported her and condemned the disgusting act. One such user who voiced her opinion on the issue wrote on her Facebook post, "Tell me really, how in the world are girls these days, supposed to understand or even begin to respect the religious sanctity of festivals when every little occasion to be festive turns into an opportunity to molest women?"
The college's women's development cell also held a meeting on Tuesday to discuss the safety of women who are victims of such sick pranks during Holi. According to Scroll, the student's incident was not a one-off kind and there have been reports that nearly three students were at the receiving end of the semen-filled balloon incident. However, the students were unwilling to speak on the incident and no police case has been filed yet.