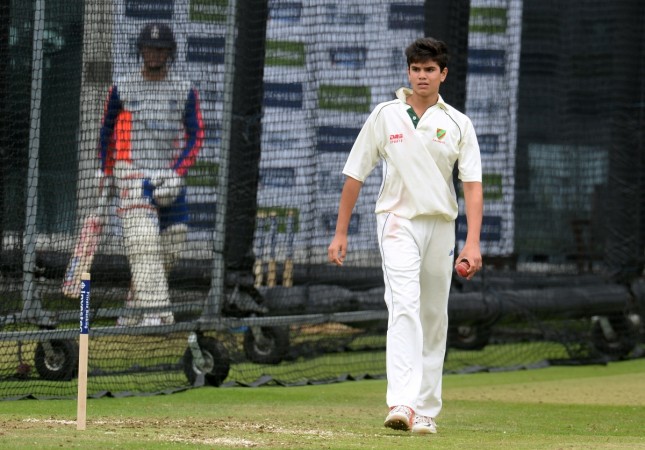 Recently, Sachin Tendulkar's son Arjun stole the show in a Twenty20 match in Australia with an all-round performance. He was described as the "darling of the tournament" by Australian media as he turned up for Cricket Club of India (CCI) in the Spirit of Cricket Global Challenge at Bradman Oval in Bowral.
The 18-year-old Arjun took four wickets with his left-arm fast bowling and also scored 48 off 27 last Thursday (January 11). It would have been easy for Arjun to follow in his father footsteps and take up batting, but he did not do that. And now he has revealed the actual reason for it.
"I just grew taller and got stronger. And I just loved bowling fast in my childhood. So I thought I might as well be a fast bowler because there's not many in India," Arjun was quoted as saying by BBC.
Arjun, who has done well in age group tournaments for Mumbai, said he played various other sports as a kid and later decided to pursue cricket seriously.
"I used to play many sports as a kid, football, swimming, running, taekwondo. And then cricket just developed, while everything else took a back seat," Arjun, who represented Mumbai in Under-19 Cooch Behar Trophy, added.
When asked about the bowlers who he admired growing up, he said, "Zaheer Khan, (Mitchell) Johnson, (Mitchell) Starc and Wasim Akram. At the moment it is Johnson and Starc."
"Very privileged to get advice from all of them. Wasim Akram basically told me how to grip the ball and swing the ball. And he taught me how to shine it," he added.
And any bowling secret he learnt from Akram? He discloses, "Whenever you put spit on the ball you have to throw it around. When the spit dries rub it (ball) on the pant. The main thing is keep it away from the sweatiest guy in the team."
When asked who is the sweatiest guy in their team, he replies, "Me. I give it (ball) to someone else".
Three years ago, Akram had praised Arjun. "He is a 15-year-old who is like any other kid in India, Pakistan, Bangladesh or Sri Lanka -he's very enthusiastic about his cricket. He is a left-arm medium pacer and I gave him some tips on the game," Akram had told "NDTV" in 2015.
"I told him a little bit about fitness, on wrist positioning and I explained to him how to bring the ball back onto the right-hander. He had a lot of questions for him and is very passionate about the game, and that is always a good sign," the Pakistan pace legend added.
Last year, in October, Arjun had troubled India captain Virat Kohli with a bouncer when he bowled at the team's training session during New Zealand series at Mumbai's Wankhede Stadium. He has also bowled at England's "net" session at Lord's in 2015.