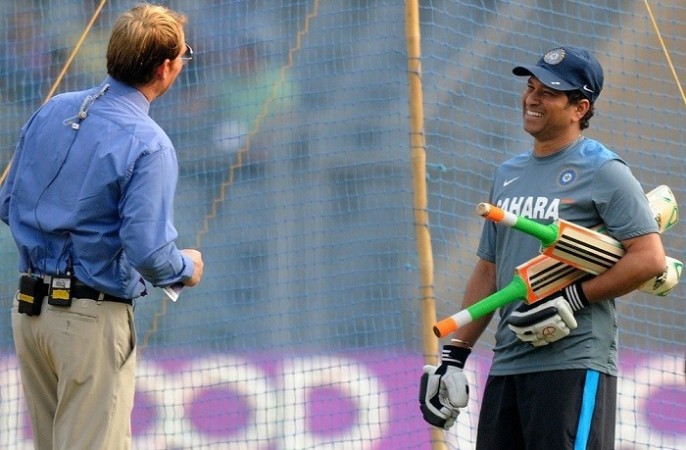 A host of former cricketers have reached the US to play the first match of the All-star T20 series, which will be played at the Citi Field in New York on 7 November. Around 30 players have agreed to participate in the tournament, which features retired cricketers from as many as eight Test-playing countries.
(Click here for complete list of players for All-star T20 series)
Brian Lara, Allan Donald, Curtly Ambrose and Wasim Akram, along with Indian players such as Virender Sehwag and Sourav Ganguly will make the series glamorous and interesting. Sachin Tendulkar and Shane Warne, who initiated the series, have named their respective sides as Sachin's Blasters and Warne's Warriors, respectively.
The teams have not been picked yet and will be announced only on 5 November, as confirmed by the 'master blaster' on Twitter.
So, it remains to be seen if we get to re-live the fierce contest of the past, which includes Glen McGrath vs Lara, Donald vs Tendulkar, Akram vs Matthew Hayden and Shoaib Akhtar vs Tendulkar.
Ganguly has already let Tendulkar know his preference to bat as an opener and the 'little master' repsonded to him via a tweet.
While Pakistan fast bowler Shoaib Akhtar has requested Tendulkar to pick him in his side, cricket fans might want to witness a Akhtar vs Tendulkar show in the US.
Irrespective of the players who will be picked in the two sides, one thing is for sure: cricket lovers in the US are set to witness some scintillating performances by these stars, who will be playing in the US for the first time.
While the first T20 will be played in New York, the second and third T20s will be played at Minute Maid Park in Houston on 11 November and the Dodger Stadium in Los Angeles on 14 November, respectively. Drop-in pitches are going to be used in the series.