Batting legend and nominated Member of Parliament Sachin Tendulkar was denied an opportunity to deliver his maiden Rajya Sabha speech on Thursday, December 21 when Congress leaders created a commotion, which led to adjournment of the Upper House of Parliament of India.
Tendulkar, who was nominated to the Rajya Sabha in 2012, had requested a 2 pm slot on Thursday for a short-duration discussion on the issue of lack of proper training facilities and the need for financial assistance to retired sportspersons in the country.
Notably, Tendulkar had written to Prime Minister Narendra Modi earlier this month requesting the inclusion of international medallists in the Central Government Health Scheme (CGHS). He cited the plight of former Olympic gold medal-winning hockey legend Mohammed Shahid, who died last year due to serious liver and kidney ailments.
'Matter of shame'
Rajya Sabha adjourned till 11 am, tomorrow after sloganeering by opposition.

— ANI (@ANI) December 21, 2017
The World Cup-winner had stood up to deliver his speech on Thursday. However, Congress leaders created a ruckus, demanding an apology from Modi for his comments on former prime minister Manmohan Singh during an election rally in Gujarat.
Modi had alleged that Singh, along with senior Congress leader Mani Shankar Iyer, had discussed Gujarat elections with officials from Pakistan.
Tendulkar waited and watched the commotion for more than 10 minutes. Even as House chairman Venkaiah Naidu requested the protesting MPs to maintain order, there was no improvement as the sloganeering continued.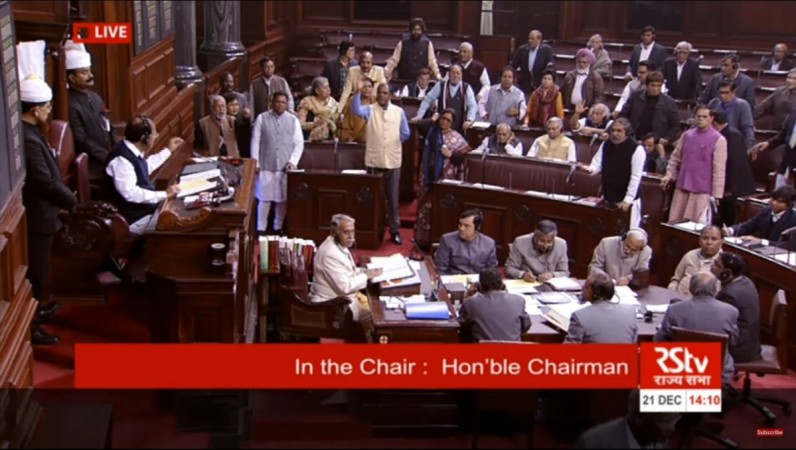 The vice-president then ordered the live telecast to end after hitting out at the MPs. He said: "We're discussing about sports and you don't have the sporting spirit."
He added: "It is his [Tendulkar's] maiden speech that too on an important issue of sports. Please do not create trouble in the House. Don't get a bad name also. "
The Rajya Sabha was then adjourned till 11am Friday, December 22.
BJP MP Jaya Bachchan slammed the protesting MPs, saying it was shameful to see Tendulkar being denied an opportunity to speak at the Rajya Sabha.
"He (Sachin Tendulkar) has earned a name for India at the world stage. It is a matter of shame that he was not allowed to speak even when everyone knew it was on today's agenda. Are only politicians allowed to speak?" Bachchan was quoted as saying by ANI.
Watch video here