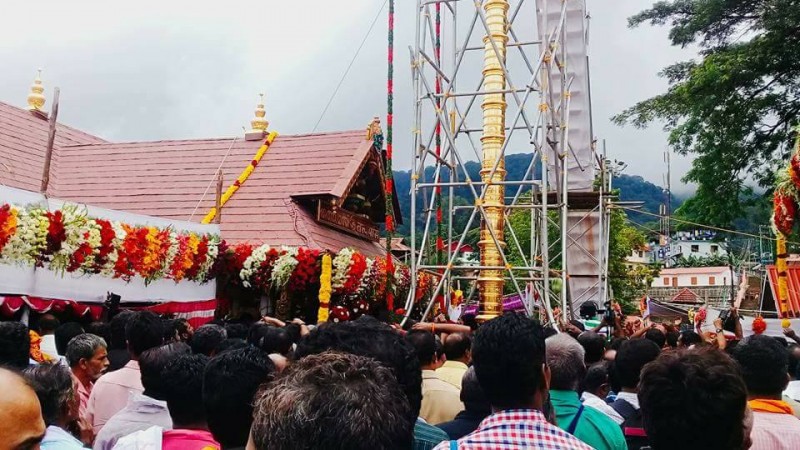 The Rashtriya Swayamsevak Sangh did a complete U-turn in its stance on Tuesday by criticizing the Kerala government for implementing the Supreme Court verdict by allowing women of all ages into the Sabarimala temple and going against a centuries-old tradition.
Last week, the Supreme Court passed a landmark judgment saying that age and gender is no bar and women of all ages can visit the Sabarimala shrine in Kerala.
Bhaiyyaji Joshi, the General Secretary of the RSS, said that the judgment by the top court is unfortunate and that the protests which are taking place across Kerala are a reaction to 'forceful breaking of tradition'.
"In the case of Sabarimala Devasthanam, it is an issue of a local temple tradition and faith, to which sentiments of millions of devotees, including women, are attached. These sentiments of the devotees cannot be ignored while considering the judgment," he said in a statement.
He also added, "Unfortunately, the Kerala government has taken steps to implement the judgment with immediate effect without taking the sentiments of the devotees into consideration," according to IANS.
The report states that Joshi has called all stakeholders and spiritual leaders to come together, analyse and make a plan of action. He said, "They must convey their concerns on their right to worship in a manner that best suits their faith and devotion, to the authorities in a peaceful manner."
However, Joshi said in 2016, "The RSS wants to allow all women up to the limits set for men," according to News18. This was the time when the Kerala government was against allowing women into the shrine.
A meeting convened by the Travancore Devasom Board has made arrangements to allow women of all ages into the shrine. The annual pilgrimage season for this year will begin on October 16.
(With inputs from IANS)