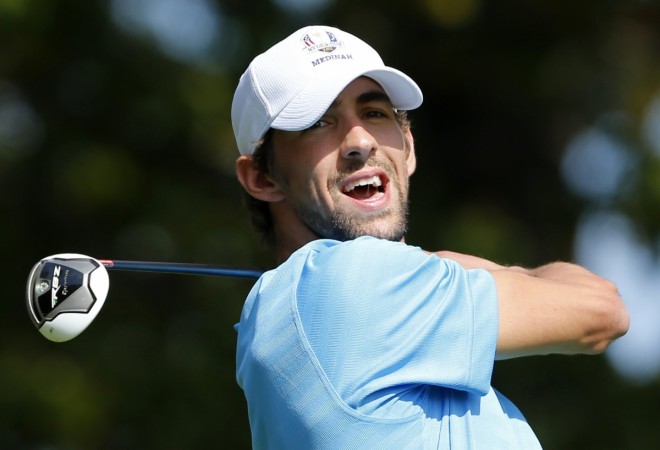 The list of celebrities who will be part of Team USA (United States of America) in the Ryder Cup Celebrity Scramble 2016 has been revealed and apart from one of the greatest Olympians of all time, Michael Phelps, and veteran Hollywood actor Kurt Russell, as we had reported, six other big names will participate in the event.
The event sees a nine-hole scramble featuring celebrities from the United States and Europe. It will take place at the Hazeltine National Golf Club in Minnesota, United States, following the first practice round between the main competitors from both the continents, scheduled for September 27 -- three days prior to the start of the main match days.
The Ryder Cup takes place between a 12-member team from the US and Europe over three match days. Day 1 and Day 2 of the Ryder Cup 2016 will comprise of four foursome (alternate shot) matches and four fourball (better ball) matches, while Day 3 will comprise of 12 singles matches.
Here is the list of celebrities from Team USA
Michael Phelps - The greatest Olympian of all time. Absolutely. Phelps has a jaw dropping 28 medals from the Olympics (23 golds, three silvers and two bronzes) over several swimming events. The 31-year-old will definitely be the strongest member of Team USA as he is fresh from the Rio 2016 Olympics campaign, where he bagged four gold medals and one silver medal.
Kelly Slater - The 44-year-old pro surfer has been crowned the World Surf League Champion a record 11 times, including five consecutive titles in 1994–98.
Bill Murray - The 66-year-old versatile American actor is still going strong. TV show 'Saturday Night Live' made him a popular face from the early 1980s and thereafter, the 2003 movie 'Lost in Translation' turned him into a breakout star of the American film industry.
Todd English - The 56-year-old celebrity chef is one of the best known personalities in the world of culinary arts. He has four critically acclaimed cookbooks to his name.
Rob Riggle - The 46-year-old comedy actor, also a retired United States Marine Corps Reserve officer, will look to lend his hands on the golf course for the first-time ever, in the Ryder Cup 2016.
Kurt Russell - The 65-year-old veteran actor, who was seen in 'Poseidon' as well as 'Furious 7', is an Emmy and Golden Globes-nominated actor.
Jeremy Roenick - The 46-year-old is the third sportsperson in the Ryder Cup 2016 Team USA celebrities. He is a former professional ice hockey player who played for various clubs in the National Hockey League. Roenick also represented Team USA in two Olympics in 1998 and 2002.
Huey Lewis - The 66-year-old musician who has won many awards and accolades over the years has revealed that playing golf is one of his pastimes and it will be interesting to see how he fares in the entertaining event at Ryder Cup 2016.