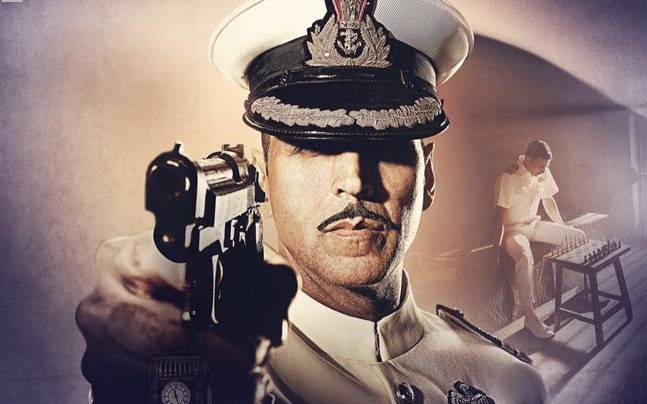 Director Tinu Suresh Desai's Bollywood movie "Rustom," also spelt as Rustam, featuring Akshay Kumar and Ileana D'Cruz in the lead roles, has received positive reviews from the audience around the world.
Check: Rustom Posters | 5 Reasons to watch Rustom | Rustom Promotion
"Rustom" is a crime-mystery film, based on real life incident of naval officer KM Nanavati. The movie deals with a true story of love, passion, murder, morality and justice that shook the nation. Vipul K Rawal, an ex-navy officer, has written the story, screenplay and dialogues for the movie and also guided the film's unit in using authentic places and objects for the shooting, which is one of the highlights of the film, say the audience.
Rustom Pavri (Akshay Kumar) is a naval commander, who is happily married to Cynthia (Ileana D'Cruz). He is shocked to see his wife in the bedroom of Vikram Makhija (Arjan Bajwa) and he kills Vikram on the spot. A worker from Vikram's residence informs of the murder to some media houses and what happens next forms the crux of the story.
Akshay Kumar has played a variety of roles in his previous movies. This is the first time that he is appearing as a naval officer. His new avatar has really impressed the audience, who say he has reinvented himself with "Rustom" ‎once again after "Special 26" and "‎Baby." He has delivered brilliant performance, which is the main highlight of the movie.
As his wife, Ileana D'Cruz has done justice to her role and her scintillating moments with Akshay Kumar are among the highlights of the film. Arjan Bajwa, Esha Gupta, Usha Nadkarni, Sachin Khedekar, Kumud Mishra and Pawan Malhotra have played important roles and their performances are also assets to the movie.
Neeraj Pandey, who has jointly produced the movie with Aruna Bhatia, Nittin Keni, Akash Chawla, Virender Arora, Ishwar Kapoor and Shital Bhatia, has made sure that the film has brilliant production values. Brilliant script, good songs and background score, amazing picturisation and superb selection of exotic locales and warships are the big attractions on the technical front.
Rustom had its first screening in some foreign countries on Thursday and the audiences were thrilled to watch it. Soon after the sceening, they took their social media pages to share their verdict. We bring to you some unique comments below:
Sidhu ‏@sidhuwrites
#Rustom Interval: Variant of a whodunit moving at a leisurely pace. Well presented, with a nice twist at the halfway mark. #Rustom: Superb. Smartly woven courtroom drama which excels in the second half. Once again, an AK film leaves a compelling feel at the end. #Rustom: Totally devoid of any commercial compromises, it unfolds as a no-nonsense gripper. A film for the serious content junkies. #Rustom: Slight lags here and there with casting issues too, but that's alright. Plays the guessing game till the end and somehow convinces.
Sneha May Francis @antrumtantrum
1st half of #Rustom No melodrama. Just pure, unadulterated storytelling. Pace fluctuates. tighter edit would've helped @akshaykumar #Rustom second half picks up. but the flashbacks stretch and are repeated for impact... despite tht performances makes it worthwhile
Shiva Satyam ‏@AsliShiva
#Rustom is @akshaykumar's best film in recent times, especially the 2nd half which is awasome, every scene of 2nd half is entertaining #Rustom is entertaining ,patriotic & social film, so you should go & watch it . My Rantings : 3.5* & Business prediction : 125cr.
Sree Prasad Nair ‏@i_spn
Interval #Rustom is good so far, but Akshay Kumar presence is missing. Only 5-6 scenes, but film is high on story. Decent first half! #Rustom second half started with a bang! Ileana nailed it And yes, Rustom Pavri is back, in terrific form #Rustom #Rustom second half turning out to be a solid thriller... So many twists and turns with excellent dialogues/acting from the lead cast! Akshay Kumar rocking like never before, performance in #Rustom is the BAAP of #Baby! Sachin Khedekar is also giving tough competition to #Rustom Effortless acting! Sachin Khedekar is also giving tough competition to #Rustom Effortless acting! Heading for a rocking climax #Rustom #Rustom Another winner for @akshaykumar with good support from @Ileana_Official & @eshagupta2811! Trust me darling.., You can't miss this! #Rustom Decent first half and extraordinary second half with top performances from entire cast, Sure shot hat-trick hit for @akshaykumar !
SonahangRaiThulung ‏@SonahangThulung
Rustom.It is an intelligently woven, slick and smart period Thriller with its subject matter as its USP. Sure Shot Superhit. #Rustom. Without Doubt, One of the most challenging roles in his career. @akshaykumar Fans will go Gaga over his new avatar. #Rustom. #Special26, #Baby & Now #Rustom @akshaykumar is in Terrific form. He gave Award Worthy Performance. He Nailed it. 4.5*/5*"
Umair Sandhu @sandhumerry
Exclusive Review of ‪#‎Rustom..!! Best film of the Year by so far. Rustom brings to the big screen the scandalous and Outrageous incident that occurred in the 1959. Now to the performances! ‪#‎AkshayKumar does a complete U - turn with Rustom. Delivering from the mostly comic / action roles he is recognised for, Akshay truly reinvents himself with ‪#‎Special26, ‪#‎Baby & Now Rustom. This is, without doubt, one of the most challenging roles in his career. Not only will Akshay's Fans adore him in this new avatar, even the skeptical types will applaud this superb act. National Award Worthy Performance by him seriously! ‪#‎IleanaDCruz also gave one of the Best Performance of her Career. She Steals the Show all the Way. ‪#‎EshaGupta also gave TOP Notch Performance. ‪#‎ArjanBajwa is First Rate. Excellent Performances by all supporting actors. Watertight Story & Screenplay. Dialogues are Clap Worthy. Production Designing is Classy. Music is already Chartbuster. ‪#‎TereSangYaara is TOPPING the Worldwide Music Charts. Editing is Sharp & Crispy. Direction is simply Mindblowing. On the whole, Rustom is an intelligently woven, slick and smart period Thriller with its subject matter as its USP. It's sure to get listed as one of the most gripping heist dramas based on real life occurrences. A film that's sure to win accolades, acclaim & awards. Also, Boxoffice Rewards. Strongly Recommended to all of u. Go for it. ☆☆☆☆1/2. 4.5*/5*
KRK ‏@kamaalrkhan
It's interval n it's look like that director Tinu is so talented that he can never go wrong so he has done it with #Rustom also. Director Tinu sir you are really very talented n you have proved it again with #Rustom that You can never go wrong whatever star cast is!
Asjad Nazir ‏@asjadnazir
Saw #Rustom yesterday. Very good film & recommended. Well done @akshaykumar & team. I thought @Ileana_Official was outstanding #RustomReview #Rustom & it took me by surprise. Good film & recommended. Well done @akshaykumar @Ileana_Official @ArjanTalkin & team #1DayToRustom
Anuj Radia ‏@A_radia95
Just saw the first press screening of @Rustom_Film and @akshaykumar is the iron face of justice... He was great! #Rustom #AkshayKumar @eshagupta2811 I loved your sassy, seductive and feisty avatar in @Rustom_Film reminded me of Nadira in Shree 420! #Rustom first screening
खबरीलाल ‏@raghavjaitly
Intermission alert! But, the real deal has just begun. #Rustom not guilty? Excited to watch the second half now Dayum! Courtroom arguments are leading to an unexpected conclusion. Interesting! #Rustom The naval drama is getting a bit neglected in the backdrop of murder mystery. Making me more curious #Rustom Not even for a second Akshay Kumar steps out of the aura of a decorated Defence Office #Rustom #Rustom guilty or not? Screenplay of the movie will make you switch sides time and again
Sapna Sardar ‏@iamsapna4
@ArjanTalkin Outstanding ur acting Arjan in #Rustom.. love it so much this is a best acting skill showing in this movie your's, Great man.
Namrata ‏@belle_namrata
Watched #Rustom well directed but just felt the so-called comical scenes in the courthouse were unnecessary and dragging.