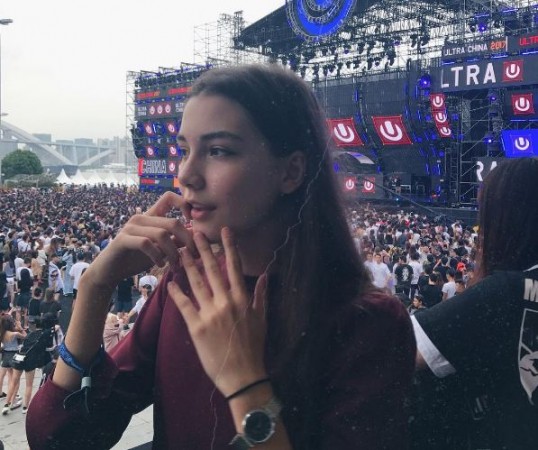 The mother of the diseased Russian teen model has released a heartbreaking final photo of her daughter, who died in China recently. The final photo of the model Vlada Dzyuba was taken with her elder brother and sister.
Oksana Dzyuba, mother of Vlada, shared a photo that shows the model with her brother Danil, 18, holding their newborn baby sister, according to Mirror.
Vlada, a 14-year-old schoolgirl, had gone to China on a three-month modelling assignment, but she died in the country. Her mother wanted to be with her daughter and even bought a visa, but could not be there before Vlada died in a hospital in Shanghai. Now Oksana is flying to China for her daughter's final rites.
Also Read: Russian teen model, who died in China, earned only $8 a day
The teen model died on October 27 in Rui Jin Hospital, Shanghai. Initial reports suggested that Vlada died from "utter exhaustion" and chronic meningitis, but a medical report claimed that she died of multiple organ dysfunction syndrome.
"The young model was suffering from septicopyemia, or a type of blood poisoning, at the ICU, with multiple visceral organs damaged, liver dysfunction and renal insufficiency," the medical report, obtained by the Global Times, reads.
Vlada died just weeks before her 15th birthday. Oksana had shared an emotional post on Russian social networking site after daughter's death.
"Children are the most valuable in a mother's life. Nothing and nobody will be able to replace loss of one of them. I will never be able to accept and to believe that my Vlada is not with us. I love you lots, my girl," the post read, according to Mirror.
According to reports, the model overworked when she was in China to walk the ramp for a fashion show in Shanghai. The 14-year-old worked for 13-hours for the fashion show. Before she could walk the ramp, she collapsed. She was taken to the hospital, where she went into the coma. Vlada died two days after she slipped into the coma.
However, the modelling agency in China has denied the claims that Vlada was forced to overwork.
"Dzyuba had received 16 different jobs during her two months' stay in China. She had regular breaks while working. Most of her work was completed within eight hours. Her workload was moderate compared with other models," Zheng Yi, CEO of ESEE Model Management, told the Global Times.