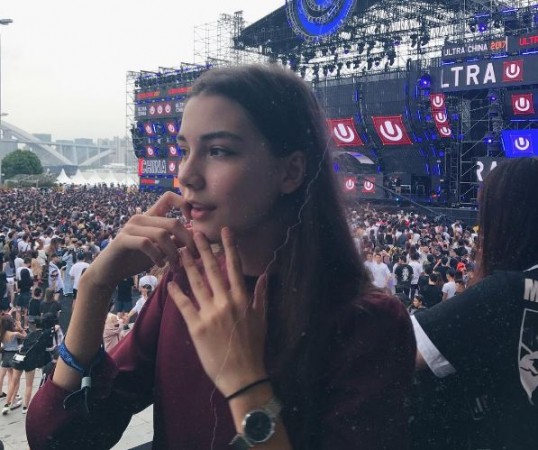 The 14-year-old Russian model, who died in China from "utter exhaustion" and chronic meningitis, made only £6.30 ($8.29/ Rs 538.76 approximately) a day. Vlada Dzyuba earned the paltry sum after paying her airfare, hotel, and food bills.
The 14-year-old had missed her schools to attend the fashion show in Shanghai. She was hired on a three-month assignment on a "slave labour" contract by an agency to walk the ramp at a fashion show in China. The agency paid her $ 3,000, but she ended up spending most of it on accommodation, tax and other things.
According to The Siberian Times, Vlada made a profit of $500 from her earnings of over 60 days. Despite the meagre income, Vlada wanted to continue taking modelling assignments and even urged her parents to let her work.
Her parents said they don't have money to fly her body back to Russia. Vlada is expected to be cremated in China. However, Russian diplomats are trying to delay the cremation so that her mother could attend it.
Vlada died on October 27 in Rui Jin Hospital, Shanghai, after she collapsed and went into a coma just before walking the ramp. Reports suggested that she was suffering from "utter exhaustion" after a difficult 13-hour fashion show.
After she collapsed, the teenager was taken to hospital but she passed away two days later.
Oksana, her mother, said that the 14-year-old was working hard and constantly tired. "She was calling me, saying 'Mama, I am so tired. I so much want to sleep. It must have been the very beginning of the illness... and then her temperature shot up. I didn't sleep myself and was calling her constantly, begging her to go to the hospital," Oksana told NTV.
What Chinese model management company has to say?
ESEE Model Management had signed a three-month contract with Vlada's home company in Russia. Zheng Yi, CEO of ESEE Model Management, told the Global Times that Vlada's contract was legal and she worked only for 8 hours a day.
"Dzyuba had received 16 different jobs during her two months' stay in China. She had regular breaks while working. Most of her work was completed within eight hours. Her workload was moderate compared with other models," Zheng said.
In a statement, ESEE said that the fashion show in Shanghai, which happened on October 18, had nothing to do with her death. According to reports, she travelled to Yiwu, a city south of Shanghai, for a shoot, but cancelled it after she fell sick.
"At around 6 pm, she was sent to the Shanghai Rui Jin Hospital's emergency room, and the Russian embassy was also informed. On Thursday, Russian embassy staff and the local police arrived at the hospital and inquired about the case. Dzyuba was then sent to the intensive care unit (ICU) as her condition deteriorated," according to the statement sent by Zheng.
A medical report of Vlada revealed that she died of multiple organ dysfunction syndrome on Friday at around 7.36 am local time.
"The young model was suffering from septicopyemia, or a type of blood poisoning, at the ICU, with multiple visceral organs damaged, liver dysfunction and renal insufficiency," the medical report, obtained by the Global Times, read.
Meanwhile, a Shanghai Fashion Week representative said that they are investigating the condition in which Vlada stayed and how she died.