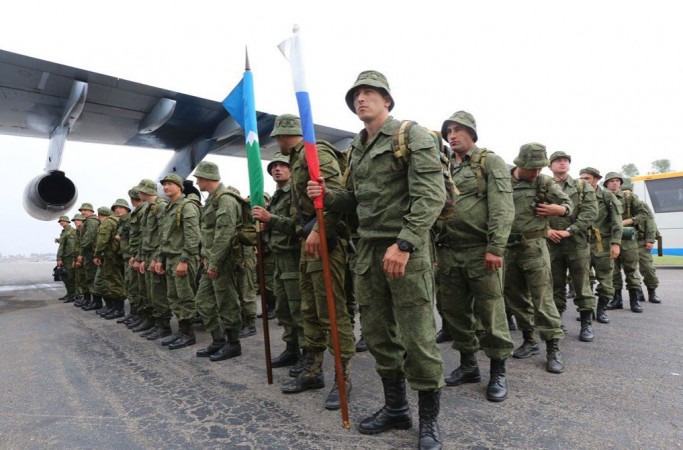 The co-operation between Russia and Pakistan is actually "quite limited," Russian government official has clarified to the Economic Times. However, the budding relationship between the two countries that were in the opposite camps during the Cold War, especially in the defence sector and with regard to Afghanistan, has raised questions in the Indian circles — both in the quarters of the foreign policy pundits and the media.
Read: Russia reassures India on Pakistan, says its relations with Islamabad won't be at the cost of New Delhi
But recent reports that Pakistan is seeking to buy advanced combat fighter jets Su-35 from Russia have alarmed India's defence analysts. though an anonymous Russian government official has dismissed such reports to be "false".
He went on to say that though Pakistan might want to buy the fighter jets, it is unlikely that Moscow will agree on anything more than transferring a limited number of fighter and transport helicopters in the future.
This statement follows the recent visit to Moscow by National Security Adviser Ajit Doval for a high-level security and counter-terrorism dialogue. Doval was also supposed to discuss terrorism in Afghanistan and Pakistan, with a special emphasis on the threat from the Islamic State.
During the same time, Moscow sent its deputy foreign minister to New Delhi to hold dialogue with the representatives of the Ministry of External Affairs.
This is not the first time that Russian officials have tried to soothe India's feelings over its Pakistan ties.
Russia will be participating in Pakistan Navy's Aman-17 exercise off the Karachi coast in the second week of February. Russia is also sending its large anti-submarine ship Severmorsk.
The Russian deputy minister for energy is expected to hold a meeting with Pakistani officials on Thursday (February 9) to review the progress of the North-South gas pipeline project, which will be inaugurated by Russian President Vladimir Putin.
India was also alarmed when Russia, China and Pakistan met for a dialogue over Afghanistan. Neither New Delhi nor even Kabul was party to that event.
There were reports in the Pakistani media that Russia could join the much talked-about China-Pakistan Economic Corridor. But soon it was dismissed as being "not true to the facts."
Russia and Pakistan have sealed a deal for four Mi-35 Hind E attack helicopters, which Moscow will supply to Islamabad.
In September 2016, Russia sent its troops for the first-ever joint military exercises with Pakistan called Druzhba-2016.
Despite all the seemingly cordial nature of the Russia-Pakistan relation, Moscow supported India's surgical strikes across the Line of Control in Pakistan-occupied Kashmir. The two old allies have also launched a joint counter-terror action plan and deradicalisation initiative to combat international terror.