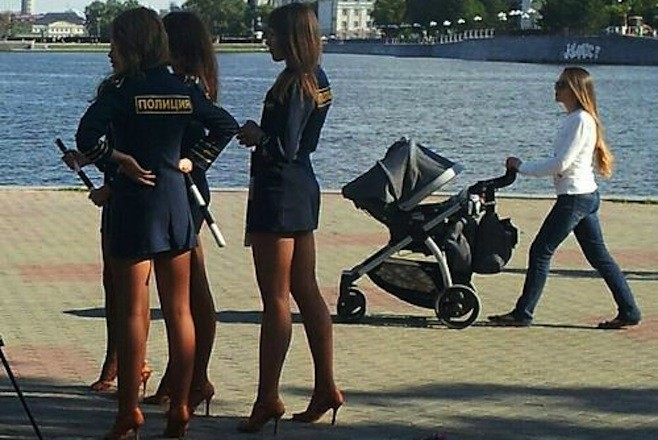 Alarmed by the shrinking hemline of the skirts worn by the country's policewomen, the Russian government has imposed a blanket ban on any sort of modifications to the police uniform.
The order was issued by Russia's Ministry of Internal Affairs that is now planning to launch a crackdown to combat the shrinking hemline of its lady police officers, which has become a popular trend.
The ministry found that the police officers were making several changes to their uniforms. While the policwomen were found to be shortening skirts, the male officers have been found to be indulging in hacking shirt sleeves to look more trendy.
The report in Russian Daily Izvestia noted that the ministry has issued a ban on police officers, mixing their uniforms with civilian clothing. An order to this extend has been issued by the ministry, whereby anyone found to be in violation will be duly punished.
Deputy Interior Minister Sergei Gerasimov, in his order, noted that such violations of police uniforms undermine the authority of the government and discredit the police force.
"When you meet people, the first thing you see is their clothing, and for a police officer fulfilling his duties, it is crucial to have a tidy and neat appearance. From time to time, we have seen instances of officers improperly wearing their uniforms. All Department Heads must pay more attention to the appearance of their subordinates," Gerasimov was quoted by Izvestia, saying in the decree.
The Internal Affairs decree now mandates that all female police officers should wear their skirt till the knee. And they will have to wear shoes issued by the department, instead of stilettos. Those in violation will be punished. Further, use of earphones or headphones while on duty will be dealt with strictly, the new order stated.
Gerasimov encouraged all police officers to reacquaint themselves with and strictly adhere to uniform requirements, and ordered department heads to inspect officer attire before the start of shifts each day.
Mikhail Pashkin, chairman of the coordination council of the police officers' union, noted that the police officers often have to work in harsh environment with limited facilities. He blamed the government for the lack of facilities for officers.
Citing an example of an officer deputed on subway stations, he said the officers often have no proper locker rooms to even keep their civil dress. In winters, they have to lug around with their winter clothes.
As of the short skirts of the female officers, Pashkin said that the length indeed varied from city to city, and in most cases it has to do with the desire of the young female officers to stay attractive.