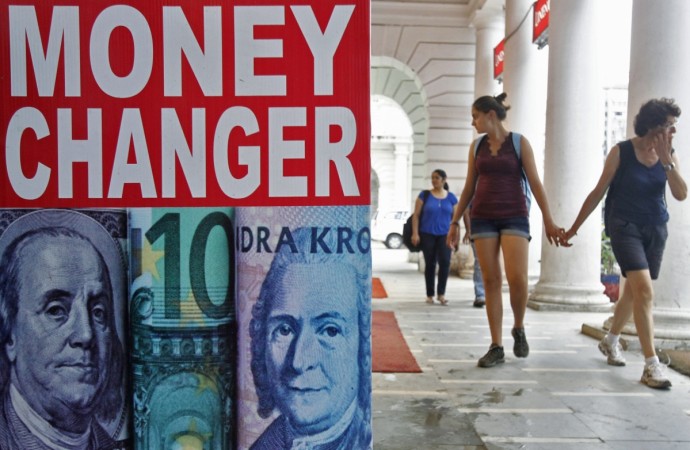 The Indian rupee consolidated its gains on Friday, opening 12 paise higher at 67.22 to the US dollar, and was trading at about 67.26 in the afternoon on sustained selling of the greenback and continued dollar inflows from foreign institutional investors (FIIs).
The domestic currency has been on an upward trajectory ever since Finance Minister Arun Jaitley presented the Union Budget 2016-2017 on Feb. 29 that prompted an unprecedented rally in stock markets from the next day, resulting in the gains of over 1,500 points for the 30-scrip benchmark index – the S&P BSE Sensex – in the next three days.
The past three days have seen sustained buying of equities by FIIs, who have been otherwise net sellers on most of the days since November last year.
On March 3, FIIs were net buyers of equities worth Rs 912 crore, according to provisional data released by the National Stock Exchange (NSE).
Their net purchases of equities on March 1 and March 2 stood at Rs 2,912 crore and Rs 1,437.50 crore, respectively.
Domestic institutional investors (DIIs) were net sellers of Indian stocks to the tune of Rs 466.75 crore on March 3.
The rupee posted its biggest single-day gains on March 1 and rose to the highest level in three weeks following a strong upmove in the domestic equities, said consultant IFA Global.
The upmove in domestic equities was expected to be primarily on the back of short-covering after the sell-off seen in the past few sessions, it added.
The uptrend has continued since then.
The rally in stocks was fuelled by Jaitley's commitment to rein in fiscal deficit at 3.9 percent for FY2016 and 3.5 percent for FY2017, raising hopes the Reserve Bank of India (RBI) would cut the repo rate when it meets on April 2 for its monetary policy review.