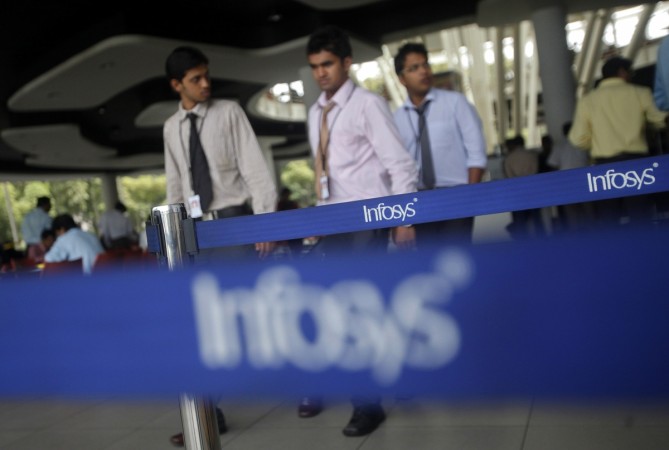 The rupee is slumping to record low in the recent times and there have been many negative effects on the health of the Indian economy. But on the flip side, the Indian IT companies are expected to witness an improvement in margins by as much as 100 basis points in their second quarter on the current fiscal year. The factors such as level of offshoring and hedging policy are likely to benefit the IT companies due to rupee fall.
The IT companies including Infosys, Tata Consultancy Services, HCL Technologies, Wipro and Tech Mahindra and Mindtree have their own hedging policies which is one of the key factors to calculate gain from the depreciation in the Indian currency.
The depreciating currency also results in immediate gains due to a higher exposure to offshoring. Speaking to the Economic Times Kuldeep Kaul, an analyst at ICICI Securities argued that "There are multiple aspects and not just the hedging policy; one, for example, is the level of offshoring you have, more offshoring means lower natural hedge and that means higher benefit to currency depreciation. Second is margin profile, let's say TCS has rupee depreciation benefits of 25 basis points. Now their margin is also 25%. This means 1% benefit to absolute EBIT. Whereas if I look at Tech Mahindra, they have 35 basis point sensitivity on 13% margin, so the delta is 2.5 to 3 times, unlike TCS, where the delta is one time."
He also added that a weaker rupee results in the short-term gain for oversea operating Indian companies, the business fundamentals are the key to determining a company's value.
The overseas client-based operations of the Indian IT companies contributes mostly to their revenues. Recently, the Indian IT companies operating in the United States have witnessed tough times due to the decision of the Trump administration to tighten the H-1B norms.
Although the recent slump in the rupee valuation is not going to sustain forever it is going to benefit the IT giants at least for a short period.