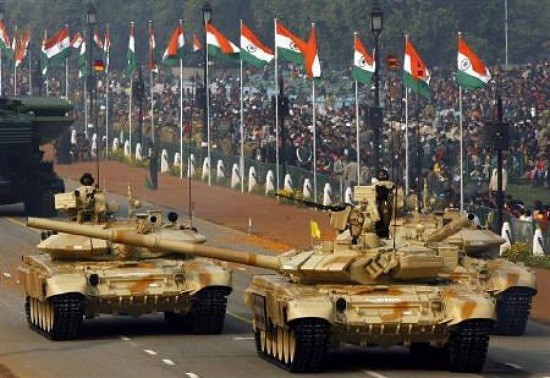 The Defence Acquisition Council (DAC) headed by Defence Minister Manohar Parrikar on Monday cleared defence proposals over Rs 80,000 crore in what is expected bolster India's defence needs. It is also expected to help in the long-drawn process of military modernisation.
The projects include procuring 464 up-to-date T-90 tanks from Russia at around $2.1 billion. The T-90 tanks would have thermal imaging night vision cameras.
Apart from this, the tanks will also be fitted with countermeasures that will reduce the chances of being hit by an enemy anti-tank guided weapon, Sputnik reported.
The report quoted Brig. Rumel Dahiya, a defence expert as saying that the Modi government would manufacture the tanks in India as the country is already assembling them at Heavy Vehicle Factory (HVF) Avadi, Tamil Nadu. India already has the necessary workforce and machines of T-90.
India is also looking to replace its T-72 tank fleet with newer units from T-90. The Indian Army also plans to increase its regiment strength of T-90 from the current 13 to 21 by 2020. India currently operates over 1,500 T-90 tanks.
India has made some additions to the T-90 tanks, renamed as Bhishma with Shtora self-protection system and Catherine thermal imaging cameras from the French company Thales and Belarusian company Peleng.
Additionally, India also operates indigenously produced Arjun Mark-1 tanks and Mark-2 tanks. There were reports that suggested that Mark-2 variants of Arjun had performed well against the Russian T-90s.