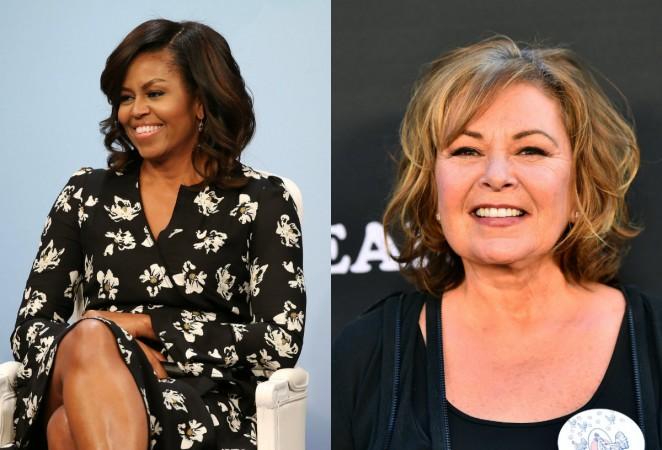 Roseanne Barr landed in hot water after a racial tweet and she is doing everything to get off the racism accusations. But her desperate attempts are only further fuelling the controversy.
The actress, who tweeted a racial opinion on Twitter that led to ABC cancelling Roseanne, rubbed salt to the wound when she retweeted a claim suggesting that Michelle Obama could have had a hand in bringing Roseanne to an end.
The TV star shared a tweet that speculated former FLOTUS had a telephonic conversation with ABC President Channing Dungey before the latter decided the fate of the ABC TV show.
"According to sources ABC President Channing Dungey had a long conversation via phone with former First Lady Michelle Obama before deciding to cancel the Roseanne show. Michelle Obama was reportedly enraged and insisted an apology was inadequate," the tweet read.
When news agencies began reporting her move, Roseanne tweeted that it was "fake news".
Soon after she retweeted the conspiracy theories against the Obamas, the actress announced that she was quitting Twitter, only to return in five hours. The actress returned to address the controversy over her Valerie Jarrett tweet.
"I'm not a racist, I never was & I never will be. One stupid joke in a lifetime of fighting 4 civil rights 4 all minorities, against networks, studios, at the expense of my nervous system/family/wealth will NEVER b taken from me," she tweeted.
Her accusations against Michelle haven't gone down well with Twitter users. As a result, Roseanne was slammed.
Now we have Roseanne pushing a theory that Michelle Obama strong-armed ABC into canceling her show.

I'm sure this is just another night of ambien tweeting. pic.twitter.com/UxzHGkOdCU

— Justin Baragona (@justinbaragona) May 30, 2018
Back to her conspiracy theories... She hasn't learned anything. Expect more of the same.

— Mark Bent (@bebento) May 31, 2018
No, @therealroseanne! You DON'T blame former FLOTUS @MichelleObama for yr firing and the cancellation of yr sitcom! I blame them on YOU and yr ignorant comments about #ValerieJarrett!! NO ONE is buying yr "blame game" bullshit! ???

— Princess Kashmir (@FluffyNutterz) May 30, 2018
Michelle Obama must have stuffed that Ambien down her throat and handed her the phone too...

— RuPaul Ryan (@itsrupaulryan) May 30, 2018
But when you apologize, then blame it on Ambien, then get mad that others were offended by it, then blame Michelle Obama & then go back to retweeting the same crazy stuff that you blamed Ambien for then the 1st apology was probably not authentic. ??‍♀️

— Kbury (@nug1) May 30, 2018
Michelle Obama isn't the only one Roseanne blamed. She attempted to blame her racist Twitter rant at the sleeping drug Ambien. The company manufacturing the drug gave her fitting response:
People of all races, religions and nationalities work at Sanofi every day to improve the lives of people around the world. While all pharmaceutical treatments have side effects, racism is not a known side effect of any Sanofi medication.

— Sanofi US (@SanofiUS) May 30, 2018
Despite her attempt to blame others for the tweet and cancellation, several media personalities feel that ABC did the right thing by cancelling the show. Here are a few reactions:
From Channing Dungey, President of ABC Entertainment: "Roseanne's Twitter statement is abhorrent, repugnant and inconsistent with our values, and we have decided to cancel her show."
There was only one thing to do here, and that was the right thing.

— Robert Iger (@RobertIger) May 29, 2018
But honestly she got what she deserved. As I tell my 4 year old, one makes a choice with one's actions. Roseanne made a choice. A racist one. ABC made a choice. A human one.

— shonda rhimes (@shondarhimes) May 29, 2018