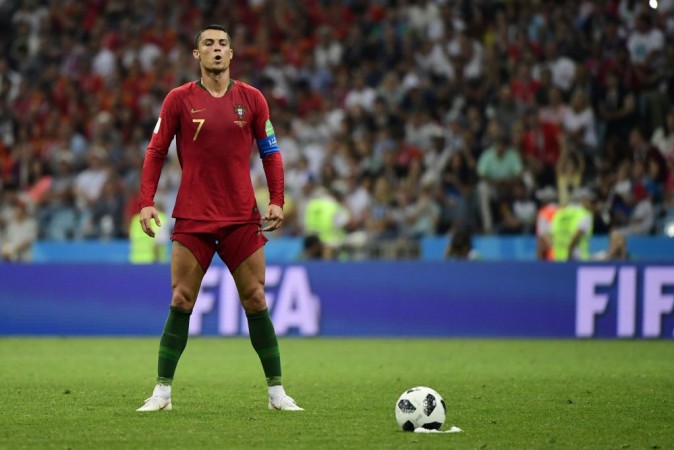 Cristiano Ronaldo proved why he is rated among the elite in world football with a stunning performance in Portugal's Fifa World Cup 2018 opener against Spain at the Fisht Stadium in Sochi on Friday, June 15.
Ronaldo's awe-inspiring hat-trick came hours after he was handed a two-year suspended jail sentence and a fine of £16.4 million over tax-evasion charges in Spain, thereby providing Twitter users with the fodder they needed to set the social media platform on fire.
The news of Ronaldo accepting the charges had come on Friday, June 16 even as he was preparing for the much-anticipated clash between Portugal and Spain in Sochi, the BBC reported.
The 33-year-old, featuring in his fourth World Cup finals appearance, showed no signs of distraction and led the team from the front, involving in almost every attacking play, as Portugal clinched a point following a six-goal thriller.
The much-anticipated Group B opener lived up to its hype as high-quality, entertaining football was played throughout 90 minutes in Sochi.
After being brought down in the penalty area by his Real teammate Nacho, Ronaldo put Portugal in the lead as early as in the fourth minute. Spain struck back with Diego Costa's fiery strike only to see the opposition captain restore the lead after David de Gea's costly error before the half-time.
Upon resumption, Spain piled up pressure on Portugal by pressing forward and they were rewarded with two goals, a Costa nudge and screamer from Nacho outside the 30-yard box.
At that point, Portugal fans would have started fearing the worst as the clock kept ticking on even as Spain were holding on to their lead to good effect.
However, Ronaldo punished Spain for another error by scoring a blinder from a set-piece in the 88th minute of the high-octane tie. The Portuguese superstar lifted the ball over the wall and curled it into the top-right corner as he took de Gea out of the equation.
Twitter was abuzz, heaping praise on Ronaldo following his hat-trick. Notably, Ronaldo became the first man to score three on the trot against Spain in a World Cup finals tie.
IBTimes, India has compiled a list of reactions to Ronaldo's supreme effort in Sochi. (starts with tax-evasion tweets).
Cristiano Ronaldo, today:

- Spanish authorities give him two years suspended prison sentence and €18 million fine for tax evasion.

- Only player to ever score a hat-trick against Spain at a World Cup.

— The Spectator Index (@spectatorindex) June 15, 2018
Spanish Govt gives him two years prison sentence and €18M fine over tax evasion and the same day he scores a hatrick against it. #Ronaldo knows how to teach lessons. ❤️

— Dr Saqlain Shah (@DrSaqlainSh) June 15, 2018
What a way to take your frustrations out on the country that just gave you a two-year jail sentence and took €16m off you. #Ronaldo

— Ste Hoare (@stehoare) June 15, 2018
Now, the GOAT debate
Rafael van der Vaart recalls another Ronaldo special
Gayle: 'Greatest CR7'