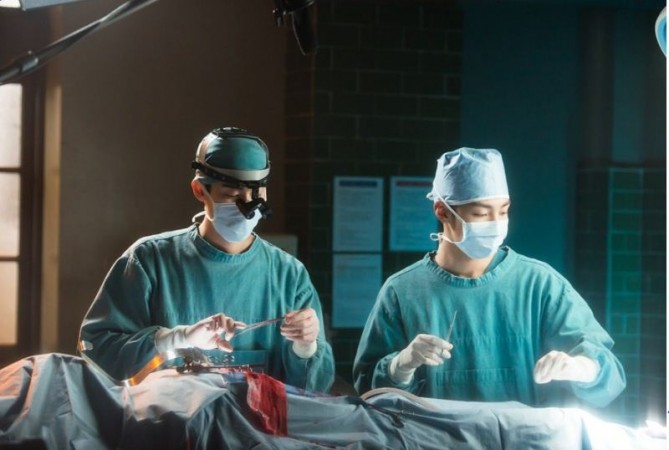 The ratings for the South Korean popular drama series are out and as per reports Romantic Doctor Teacher Kim has topped it with all time high ratings. Despite the competition, Romantic Doctor Teacher Kim topped the viewership ratings with 25.1 percent this week.
Also Read: The Legend of the Blue Sea tops brand reputation among dramas
The television ratings released by dramabeans is for the week of January 2 to January 8. While Romantic Doctor Teacher Kim has topped the television ratings this week, The Legend of Blue Sea also continues to do well.
Romantic Doctor Teacher Kim tops the list with an all-time high of 25 percent, followed by Hwarang with around 8 percent and Night Light with a low rating of around 4.7 percent. The midweek, Wednesday and Thursday, rating are topped by Lee Min Ho and Jun Ji Hyun starrer The Legend of the Blue Sea. Min Ho-Ji Hyun starrer scored an all-time high ratings of 18.3 percent this week. The romantic fantasy drama series is followed by Weightlifting Fairy Kim Bok-ju with an average 5.4 percent in the second spot.
tvN's The Lonely Shining Goblin has topped the weekend rating chart. The Lonely Shining Goblin scored the highest rating of around 15 percent on Friday, but on Saturday, KBS drama Laurel Tree Tailors has taken the top slot with 27.4 percent.
Check out the ratings below, as provided by dramabeans.
Monday, Jan. 2
Episode
Station
Rating
Hwarang
5
KBS
7.6%
Night Light
13
MBC
4.1%
Romantic Doctor Teacher Kim
16
SBS
22.1%
Rude Miss Young-ae Season 15
19
tvN
3.2%
Tuesday, Jan. 3
Hwarang
6
KBS
8.0%
Night Light
14
MBC
4.7%
Romantic Doctor Teacher Kim
17
SBS
25.1%
Rude Miss Young-ae Season 15
20
tvN
3.9%
Wednesday, Jan. 4
Oh My Geum-bi
14
KBS
6.1%
Weightlifting Fairy Kim Bok-ju
14
MBC
5.4%
Legend of the Blue Sea
14
SBS
17.8%
Thursday, Jan. 5
Oh My Geum-bi
15
KBS
7.2%
Weightlifting Fairy Kim Bok-ju
15
MBC
5.4%
Legend of the Blue Sea
15
SBS
18.3%
Friday, Jan. 6
Solomon's Perjury
5
JTBC
1.6%
The Lonely Shining Goblin
11
tvN
15.0%
Saturday, Jan. 7
Laurel Tree Tailors
39
KBS
27.4%
Blow Breeze
38
MBC
13.8%
Father, I'll Take Care of You
16
MBC
10.9%
Our Gap-soon
36
SBS
9.7%
Our Gap-soon
37
SBS
16.3%
Solomon's Perjury
6
JTBC
0.8%
The Lonely Shining Goblin
12
tvN
14.9%