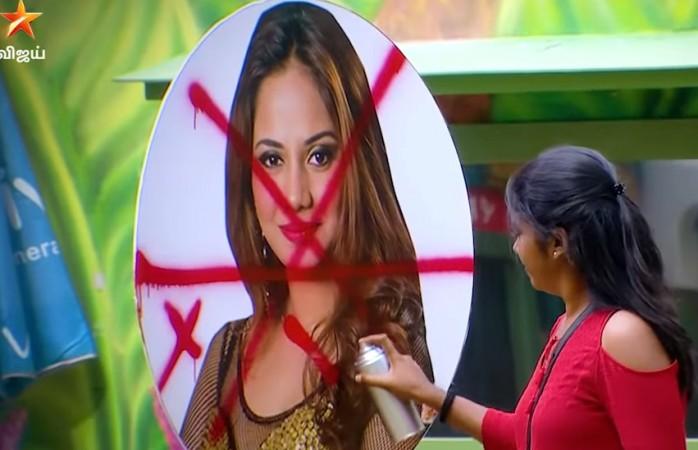 The International Business Times (India) had conducted a poll to understand the viewers' pulse on who is going to win the second season of Bigg Boss Tamil 2. Not surprisingly, more than half the people want to see Riythvika winning the trophy this year.
Riythvika has garnered 50.55 percent of votes, while the combined votes of the remaining three contestants stands at 49.55 percent. That clearly tells that it's a cakewalk for Riythvika in the end.
Aishwarya Dutta comes distant second by getting 31.3 percent of votes, but it is a good percentage considering the wide-spread criticism that she is facing over her tantrums in the show. People seem to have overlooked the negative things and voted for entertaining them and giving her best shots in the tasks.
Vijayalakshmi ends as the second runner up as per the poll by garnering 9.88 percent of votes. Whereas Janani Iyer, who is eliminated from Bigg Boss Tamil 2 on Saturday, is in the fourth place by getting 8.23 percent of votes.
Meanwhile, rumours are rife that the shooting of Bigg Boss Tamil 2 grand finale is completed and as predicted by our poll Riythvika has emerged victorious. And Aishwarya Dutta has ended up as the runner-up, while Vijayalakshmi is in the third place.


On the other hand, Janani Iyer has been shown the door from Bigg Boss Tamil 2. Kamal Haasan had special mention for her ability to handle the issues with diplomacy. He told her that her attitude might not have ensured her to win the trophy, but it helps her to win battles in outside world.
With her elimination, Aishwarya Dutta, Vijayalakshmi and Riythvika are in the race to win the trophy. The final episode of two-part grand finale of Kamal Haasan-hosted show will be aired on Sunday, 30 September, at 8 pm.