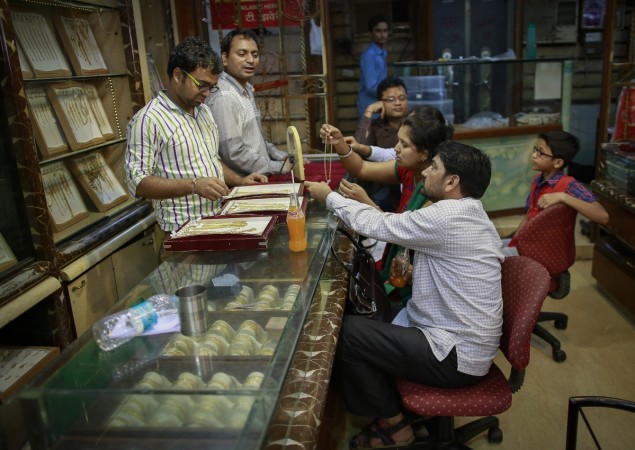 Gold prices surged Rs 850 to Rs 29,650 per 10 gram on Friday, boosted by a rally in the metal price in overseas markets and an increased demand from jewellers.
Overall, the yellow metal prices have gone up by Rs 2,600 in the past eleven trading sessions.
In the overseas markets, gold prices traded at a 12-month high of $1,242 per ounce, supported by a sharp rise in safe-haven demand amid a sell-off in major stock markets across the world.
"The gold price was firing on all cylinders yesterday and surged by 5.5% at its peak to achieve a twelve-month high of $1,263 per troy ounce. Gaining a good 4% on a closing price basis, it recorded its most pronounced daily increase in a good seven years," Commerzbank Corporates & Markets said in a note.
In India, gold prices were also supported by an improved demand from jewellers in the ongoing wedding season and by a depreciating rupee.
Indian rupee traded at 68.36 to a US dollar on Friday, staying less than a percent away from its all-time low of 68.85. A fall in rupee has made gold imports costlier, giving a reason for the metal prices to go higher.
A depreciation in rupee is partly due to heavy outflows from the domestic stock markets. Indian stock markets on Thursday witnessed their third biggest fall ever since Prime Minister Narendra Modi-led government came to power in May 2014. The S&P BSE Sensex tanked by more than 800 points, while the NSE Nifty closed below the psychological 7,000-mark. However, the stock indices closed almost flat on Friday.
"The gold price is benefiting from tailwind generated by stock markets which for the most part are continuing to fall sharply – reflecting the risk aversion displayed by market participants," said Commerzbank.
Tracking the firming trend in gold prices, silver prices also ended sharply higher at Rs 37,850 per kg, up Rs 750 from the previous closing.