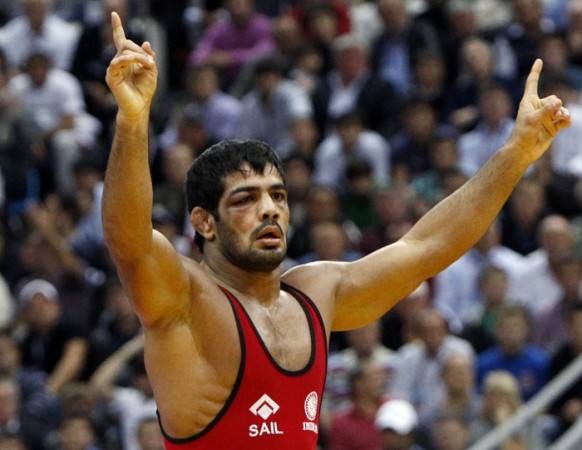 It seems that Sushil Kumar's hopes of participating in the upcoming Rio Olympics later this year are dashed, as the Wrestling Federation of India (WFI) are not keen on arranging for a trial between the Olympic medalist and Narsingh Yadav, who was the one who secured a quota place for the 74kg freestyle event. Sushil had moved the Delhi High Court earlier this week in a bid to get a trial.
In reply, HC has stated that it does not matter who takes part in the Rio Games, with the right person being chosen being the most important. The WFI formed a committee to resolve the problem, which has been going on for quite some time. The committee has hinted that they are likely to prefer Narsingh Yadav over Sushil Kumar for the Rio Games.
"Sushil has put forward his views before the committee and has maintained what he has been saying since the very beginning that he should get a chance to undergo a trial," WFI president Brij Bhushan Sharan Singh was quoted as saying by PTI.
"We have told him that 'you have put Indian wrestling at a pedestal and we cannot ignore your contribution and we all respect you'. But on the other hand, there is another wrestler who has brought the Olympic quota and also has been giving consistent performances. So, can we be unfair to him also? The Federation has taken its decision."
WFI and Sushil Kumar are awaiting the next hearing of the High Court, which will be on May 27.
"If the court decides that we should hold the trial, the matter would not stop there. Then it will again go to the Supreme Court. But if court instructs WFI to conduct a trial and if the higher court also says it, then we will have to listen to the court," Bhushan added.
The two-time Olympic medalist has been standing firm on his point of holding a trial between him and Narsingh Yadav.
"I have always wished Narsingh well. He is my colleague and he has also done well for the country. But now what the present situation is in 74kg, the decision can only be taken after conducting the trial," Sushil Kumar said.