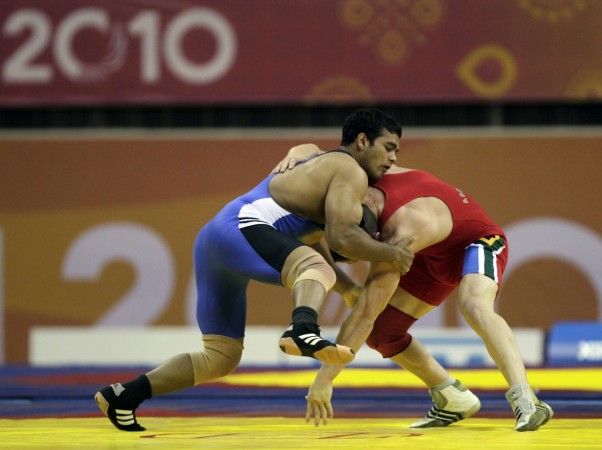 From poor background to travelling in a SUV, Indian wrestler Narsingh Yadav has seen plenty of highs and lows in his personal life. As the athlete prepares for the Rio Olympics 2016, he will be aiming to achieve the greatest high of his career -- winning the gold medal for India. Narsingh, who will compete in the 74kg category, however, will be under immense pressure to perform, after the Sushil Kumar fiasco, which threatened to mar the build up to the Olympics.
Four years ago, it was the sport of tennis, which grabbed headlines, with players reluctant to partner Leander Paes. The All India Tennis Association (AITA) had to come up with a compromise, and set up Vishnu Vardhan as Paes' partner, after Rohan Bopanna and Mahesh Bhupathi insisted on playing with each other. It was India, who suffered as the nation failed to win any medal from the sport in London. Such results left a sour taste in everyone's mouth.
Recently, there was a controversy in wrestling in May and June, leading up to the selection for the 74kg category in men's wrestling. Narsingh earned India a quota berth for the Rio Olympics, winning bronze in the World Championships in Las Vegas in September of last year, but the Wrestling Federation of India had a tough choice to make, with multiple Olympic medallist Sushil, also keen to represent the nation.
Despite Sushil approaching the courts to try and force WFI to conduct a trial, the federation decided to hand Narsingh the ticket to Rio. The WFI was right in doing so, considering the wrestler had earned that place via his spectacular performance in the World Championships, from which Sushil had pulled out due to a shoulder injury.
Sushil received support on Twitter, and so did Narsingh, before the final decision was made. Now, the situation is such that the Indian wrestler in Rio will be under pressure to come back home with a medal. If Narsingh fails to do so, he, along with WFI, might face severe criticism, as Sushil had the much-needed experience in the Olympics, winning medals in 2008 (bronze) and 2012 (silver).
Questions are bound to come from fans if Narsingh returns home empty-handed.
They can only be silenced with a medal, and make no mistake that the wrestler has all the ammunitions to overcome all odds to win his event. Narsingh is an experienced wrestler in the 74 kg event. The 26-year-old brought laurels to India, winning gold in 2010 Commonwealth Games, bronze in the Asian Games (2014) and Asian Championships (2015).
So Narsingh knows how to win medals in major events. But, with great wrestlers like Jordan Burroughs from US and Russia's Aniuar Geduev participating in his category in Rio, his task will not be any easy.
Narsingh, who is currently undergoing intense preparations for Rio, is a slow starter, which has cost him matches in major competitions. Though Narsingh is a great finisher, wrestlers like Burroughs are sensational right from the start. Maybe, the Indian wrestler should also take a leaf from Sushil's book, as he also starts brilliantly, and maintains that for the rest of the match. Aggression will be the key.
Narsingh needs to use all his strengths to his advantage, including his raw power and tight grip, which he has over his opponents. The wrestler possesses a strong upper body, but was criticised for being stiff. He has improved upon that in the last few months to increase his chances of winning a medal.
As of now, one can only hope that Narsingh shows his best in Rio, and returns home with a medal. if not, post-Rio Olympics, WFI will have some tough questions to answer.