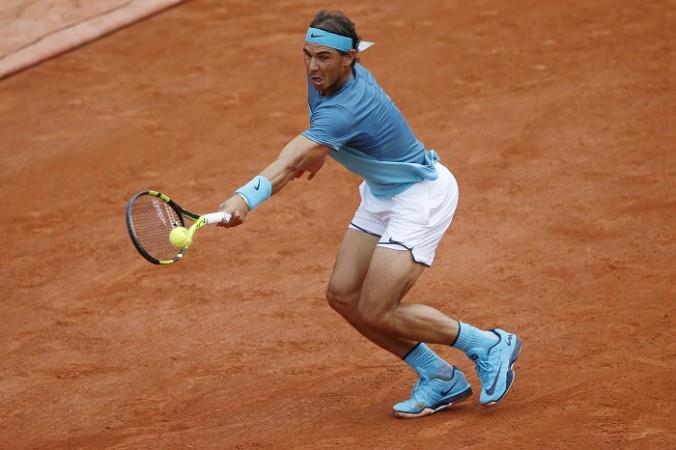 Rafael Nadal is showing positive signs of being fit and ready to compete at the Rio Olympics 2016. The 14-time Grand Slam winner has been struggling with a wrist injury, which forced him to withdraw early from the French Open and skip Wimbledon, leaving his Olympic chances also in doubt.
However, it seems like missing the big Grand Slams in order to be fit in time for the Olympics might have worked, with his coach and uncle Toni giving an injury update on his nephew, after Nadal showed signs of his old self during a practice session with world number two and Wimbledon champion Andy Murray on Wednesday.
"We began to intensify his training in order to be ready in time for the first round," Toni told Spanish radio station Cadena Ser. "Training with Andy Murray was a really hard first time with another top player and we are happy. Things worked out well.
"In Rio we will start training with the maximum-level players and see how Rafael will respond to the difficulty of the competition."
The question, however, is if Nadal, the gold medal winner in the 2008 Beijing Olympics, even if fit, will have enough form to make it deep into the tournament. The flag-bearer for Spain has not had the greatest of times on the tennis court of late, and having missed out on an opportunity to defend his 2008 gold medal in London in 2012, owing to another injury, Nadal will be keen to show he is still a force to reckon with.
Toni believes getting a kind draw, where Nadal, scheduled to play the men's singles, men's doubles and the mixed doubles at the Olympics, can win even if he is not at his absolute best, is his best chance at competing for a medal.
"There are doubts about his game," Toni added. "I believe that is normal – these are the same questions we've always had after a period of inactivity.
"Starting with the Olympics is not easy but, if we are lucky in the draw, he can improve step by step."
Nadal will not have to worry about tripping up one of his greatest rivals – Roger Federer – after the Swiss maestro pulled out of the Olympics, the US Open and the remainder of the season to recover from a knee problem.
Murray, the 2012 gold medalist, though, will be there and so will Novak Djokovic, who will be desperate to add an Olympic gold medal to complete his collection, having clinched the career Grand Slam in 2016, with victory at the French Open.