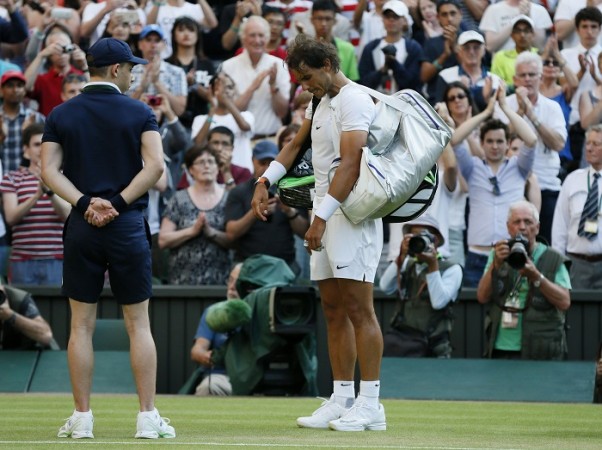 After pulling out of the French Open with a wrist injury, that same problem will keep Rafael Nadal from competing in the most prestigious of Grand Slams – Wimbledon – this year.
Taking to his official Facebook page, Nadal confirmed the unfortunate news.
"Hi everybody," Nadal wrote on his Facebook page. "I'm sad to announce that after talking to my doctors, and receiving the results of my last medical revision, I won't be able to play at Wimbledon this year.
"As you can all imagine, it's a very tough decision, but the injury I suffered at Roland Garros needs time to heal. Unfortunately, I won't be able to join in the pre-tournament event The Boodles at ‎Stoke Park that I attended in previous years.
"Thank you all for your support, especially my fans. Your kind messages mean so much to me."
Nadal looked really good at the start of the French Open, after two flawless performances. However, before the third round, he announced that a wrist injury has ended his chances of sparkling again at Roland Garros, a Grand Slam he has won a record nine times.
The Spaniard, who has suffered from quite a few injuries in the recent past, has not had the greatest of times in the last few years at Wimbledon, and while he would have fancied a crack at a third title at the All-England Club, had he been fully fit, that wrist injury of his has ended those hopes.
On Wednesday, Nadal's uncle and coach Toni had hinted his nephew is likely to withdraw from Wimbledon because of the injury, saying the doctors had still not given a timeline for his recovery.
"He is in the phase of rehabilitation," Toni Nadal said. "We haven't fixed a date for his return because the important thing is that he returns at full strength. We also don't want to put in danger his participation in the Olympic Games.
"He will return when the doctors are convinced that all is going well. He won't play unless he's 100%"