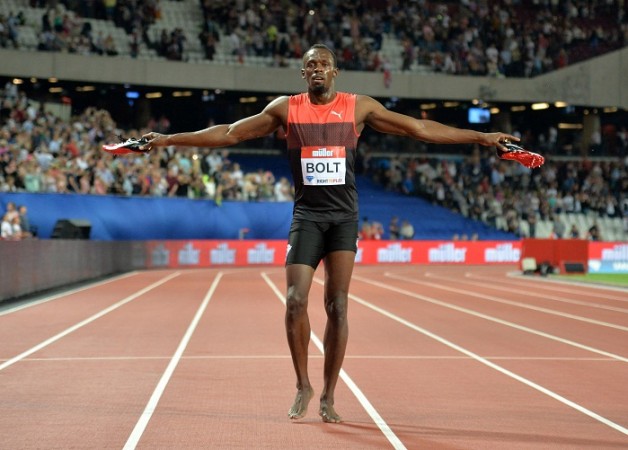 Usain Bolt has had an extraordinary career so far in the sprint events, winning almost everything there is to win, including the 100m, 200m and 4x 100m titles in the last two Olympics. The 'fastest man on the planet', who might have had some injuries in recent years, is set to defend his title again when the Rio Olympics 2016 comes calling.
The Jamaican, though, will aim beyond just the gold medals in Rio. Bolt has stressed that he can run 200m in sub-19s, which will be one of his major ambitions in Brazil. If any person, among the current crop of sprinters, can achieve this feat, it is Bolt, but the Jamaican also has to maintain his fitness.
Bolt's participation in Rio hit a roadblock after he withdrew from the Jamaican trials due to a hamstring injury earlier in the month.
However, Bolt's 200m triumph in the London Anniversary Games few days back shows that the injury was just a blip in his Rio preparations. The showman from Jamaica is raring to complete a three-peat at the Olympics.
"I'm not going to lose one of the golds, for sure," The Associated Press quoted Bolt as saying. "I always have little doubts in my mind. But I'm focused and ready to go."
Injuries may always be there in the back of his mind, but when it comes to big events, he steps up a gear. Take an example of the World Championships last year in China. Bolt was coming off injuries, with many tipping Justin Gatlin to win the sprint titles, but the Jamaican took the competition by storm, defeating his rivals quite easily. The focus in the men's sprint events will once again be on Gatlin and Bolt.
Once the Rio Olympics is done, talk of his retirement, irrespective of his performance, will be the million dollar question that is asked again. Bolt has already hinted at a possible participation in the 2020 Olympics, when he will be 33.
"My coach always says 'Usain you can always go on to the 2020 Olympics if you want'. So this is why he tells me to stop talking about retirement and just take it a year at a time," Bolt said.
"People always say to me, 'Usain when you leave the sport, the sport is going to go down'. But I'm not going to look at it like that. There are a lot of athletes stepping up."