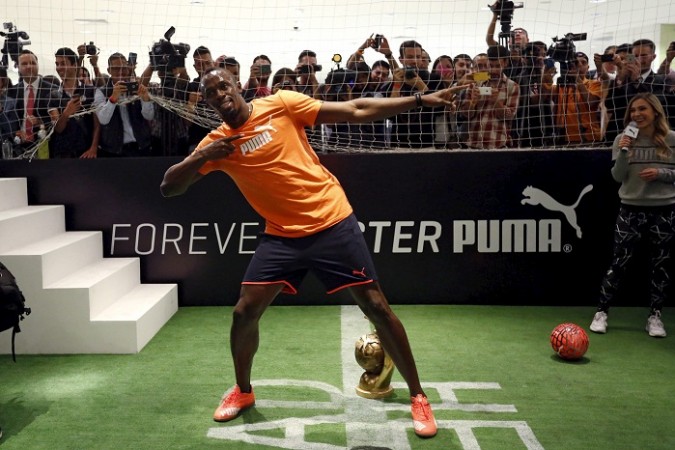 Usain Bolt, one of the best sprinters in the world, has stated that the upcoming Olympics in August will be his last. With this announcement, speculations regarding his participation in the 2020 Tokyo Olympics have been laid to rest.
"It'll definitely be my last Olympics," AFP quoted Bolt as saying. "It's going to be hard to go four more years for me, to keep the motivation that I want, especially if I accomplish what I want to in Rio."
The Jamaican sprinter has been winning gold medals in the 100m and 200m at world events with decent ease, and is also one of the favourites to win yet another gold medal in 2016 Olympics.
Though Bolt is a top favourite, he is expected to receive a major challenge from Justin Gatlin for the gold medal. Gatlin was one of the most consistent performers in the 100m and 200m field last year, and was one of the favourites to clinch the IAAF World Championships title, but Bolt, who takes his running to another level in such world events, displayed his dominance winning both the events.
Bolt holds the world record in both the 100m (9.58s) and 200m (19.19s), but wants to become the first person in the history to run sub-19, which is his major goals.
"I've said the only big thing, big time I want to run is the 200 metres. I'd love to try to go sub-19. That's the only thing I would really, really want because that's one of my goals," Bolt said.
"I've always talked about and always wanted it so for me, that's something I look forward to."
Bolt has been invincible in the last two Olympics in Beijing and London, during the 100m, 200m and the 4 x 100m men's relay, winning gold in all the said events. The Jamaican wants to sign off with another impressive medal haul, winning three gold medals in Rio as well. If he manages to achieve this feat, he will only enhance his already existing "fastest man on the planet" image.
"My biggest dream at the Olympics is to win three gold medals again. That's my focus, that's what I want. And that's what I'm aiming for because that's my goal and that's my dream," Bolt said.
Irrespective of how he performs in the Rio Olympics, he will still be regarded as one of the best sprinters to have graced the planet.