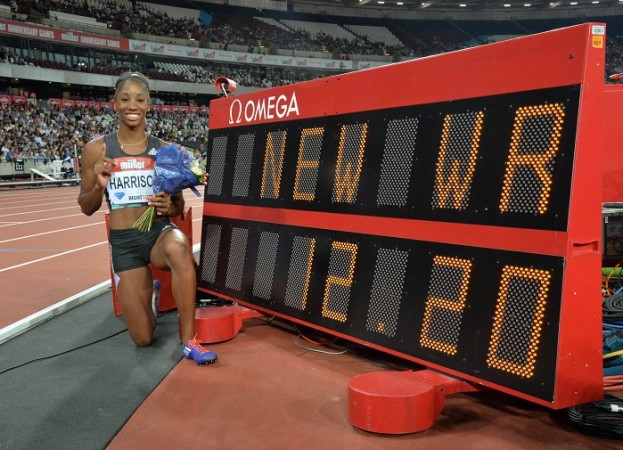 Usain Bolt cantered to victory in the 200 metres on Friday, but the Jamaican was not the one who grabbed the headlines at the London Anniversary Games – aka the IAAF Diamond League London 2016 – with Kendra Harrison setting a new world record in the women's 100m hurdles. On a night when Londoners poured in to see the great man do what he does best, an American who has not even qualified for the Rio Olympics 2016 grabbed the spotlight.
Harrison will not be a part of the US contingent for the Olympics in Rio next month, after only managing a sixth-place finish in the trials earlier this month, and the fact that that one "bad day" had crushed her Oly dreams, motivated her to trump what was a record that held true for 28 years.
"Only the record will make up for missing out on Rio," Harrison, who crossed the line in 12.20 seconds, .01 better than the previous world mark set by Yordanka Donkova, said in her pre-race press conference, before adding after the brilliant race win on Friday. "To hear people call me a world record-holder, it sounds remarkable. I wanted to come out here and show the world that I still have it, even though I won't be going to the Olympics. I had to give it all I had.
"I was so happy when it came up (the record time) and I was feeling really blessed. It shows that even if you don't go out there and make the team, you have to keep going and be strong. I just ran my best and look what happened.
"I wanted to come out here with a vengeance to show these girls what I have. I knew I had it in me. I ran as hard as I could."
That momentous victory was followed by another record in the women's category when Laura Muir crossed the line in 3:57.49 in the 1500 metres to break the great Kelly Holmes' British record.
While those two performances filled the audience up nicely, the dessert came from Bolt, who stormed to a big lead in his 200 metres, before pulling back considerably to finish in 19.89s. While Bolt will be happy with the win, picked up ahead of Alonso Edward (20.04) and Adam Gemili (20.07), the multiple Olympic champion still has a lot of improvements to make after tiring considerably from the bend.
"I'm getting there, I'm not fully in shape and I need more work," Bolt, who had to pull out of the Jamaican trials with a hamstring injury, told the IAAF's official website. "But over time I'll be fine. I'll just keep doing the work.
"I tried to go for the kerb but I don't think I executed well. The key thing is I came out here and won, but I'm always hungry for more."