Richa Chadha has been facing massive backlash for speaking in favour of veteran choreographer Saroj Khan, who said in an interview that casting couch exists in the Indian entertainment industry. Khan said that Bollywood at least provides livelihood and does not rape and leave women. She was speaking at an event in Sangli, Maharashtra.
Richa, who has always been vocal about sexual harassment and huge supporter of the global #MeToo movement, defended Saroj and said, "I really think she's either been misquoted or misunderstood. This isn't possible."
Twitter users were surprised to see Richa defending the casting couch. They accused her of projecting fake feminist and called her a hypocrite for not taking a stand when it came to talking about people from the film industry.
In a series of tweets, the Fukrey actress also tried to explain what she felt about Saroj Khan's casting couch comment. She condemned the use of the word rape in Khan's remark, but added the veteran choreographer wasn't defending the casting couch.
She further tried to justify Khan's comment by saying that the choreographer was talking about why the film industry is being targeted. She added that the film industry, if anything, is a "microcosm of the society."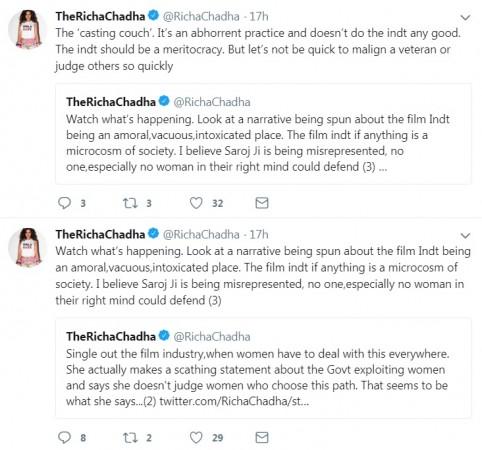 But, Twitter users were in no mood to buy into Richa's explanation. They continued to slam her for allegedly promoting casting couch by supporting Saroj Khan's statement.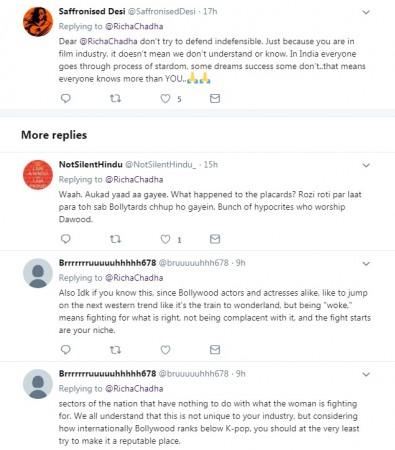 Khan, later, apologized for making the remark but it was too late as the damage had already been done.