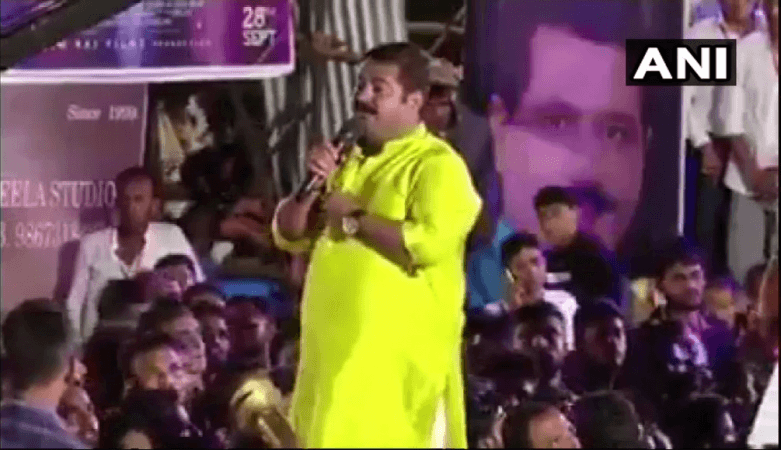 A former Maharashtra minister, on Thursday (September 6) allegedly announced a reward for anyone who "cuts off the tongue" of BJP MLA Ram Kadam.
This comes days after a video of Kadam, where he was seen promising to "kidnap girls" for men, went viral on social media.
In a video of an event at Buldhana in eastern Maharashtra on Thursday, Subodh Saoji, a Congress leader and a former state minister, was purportedly heard saying that Kadam's statement was unbecoming of a legislator. "and therefore, I am announcing an Rs 5-lakh reward for anyone who comes forward and cuts off his tongue," he purportedly said.
The kidnap girls comment
Kadam, during his speech at the dahi handi celebration on Monday night, allegedly promised young men present at the venue that if they like a girl and she says no to the proposal of marriage, then he would kidnap her for them.
The MLA's statement created a big controversy. Many news channels shared the video where Kadam was seen addressing a huge audience saying in Marathi that "If you like a girl and your parents like her too and if she rejects your proposal, you come to me with your parents.what will I do? I will kidnap that girl for you."
The video was shared by members of the Nationalist Congress Party (NCP), stating that women can't be safe if the MLA encourages abductions. The NCP reacted bluntly saying that the BJP's Ram has shown that he is a "Raavan".
Talking on the matter Mr. Kadam said that his statement was misinterpreted and he was just joking. He said he didn't mean to hurt anybody. He added that he extends his apology to people who have been hurt by his comments.
The Yuva Sena chief Aaditya Thackeray demanded an apology from Kadam. He tweeted "One BJP MLA has offered from a stage to help boys kidnap girls and marry them even against the will of the girls. I guess he believes marriage is like forming a govt. Ashamed and disgraced that he sits in the legislative assembly of Maharashtra — a land of culture & women liberty."
Saoji could not be contacted for comments.
(with inputs from PTI)