The Special Investigation Team, probing the murder of senior journalist and activist Gauri Lankesh, have reportedly detained a man for questioning in Bengaluru. The breakthrough comes almost six months after Lankesh was shot dead at her home in Bengaluru on September 5.
Naveen Kumar, 38, is said to be the founder of a splinter unit of the Hindu Yuva Sena and had allegedly taken the killer to the spot on his bike. The city sessions court has now remanded Kumar to eight-day SIT custody.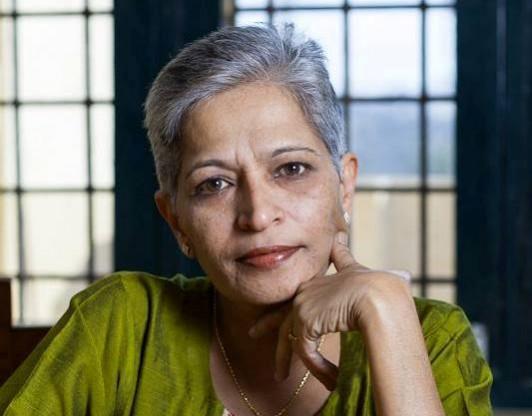 SIT deputy chief M N Anucheth confirmed the arrest to The Times of India and said: "Since he's a suspect, we've taken him into custody."
The 38-year-old was reportedly nabbed from the KSRTC bus stand in Majestic area last week. The police also found a .32-calibre gun and 15 live bullets with him. Kumar was then taken in for questioning and the police then found out that he had once bragged to his friend about his involvement in the Lankesh murder case.
He had reportedly told the friend that he has participated in a "big job" and asked him if he had been watching TV. "The latter asked him whether it was the Gauri murder. Naveen laughed it away but the friend tipped us off about it," TOI quoted sources as saying.
The SIT then took him into custody and approached the sessions court. The police are now further investigating the killing and have said that Kumar appears similar to the man riding the bike on that fateful evening.
"He resembled the man who conducted a recce on September 3 and the morning of September 5. We had the footage from near Gauri's house on those two days showing the biker on what appears to be a recce.
"Naveen's posture on a bike resembles the man in the footage. We're waiting for forensic confirmation that the recreated images of Naveen riding the bike matches the man in the CCTV footage. We have enough evidence to establish his presence in RR Nagar on September 3 and 5," the source added.
The SIT has been working on the case for the last six months had said that it had gotten the facial profile of the attacker with the help of the CCTV footage. Several eyewitnesses had also helped the police with the description of the attacker.
The footage also gave vital clues to the facial profile of the attacker. The police had said that a middle-aged man most likely between the age of 34 and 38 with a lean frame could be seen on the footage. He was riding the Bajaj Pulsar and was dressed in a formal full sleeves shirt and wore a band on his right wrist.
His helmet did not have a visor, due to which the police reportedly could figure out the profile of his face.