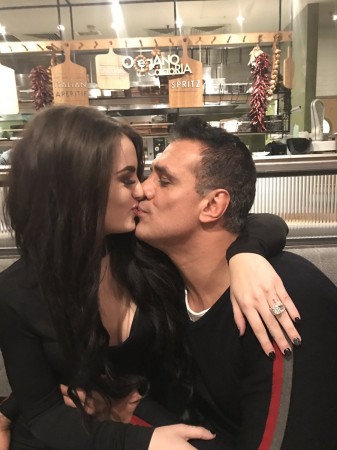 A month back, Paige mentioned that she was single again.
The returning WWE star's photos with former WWE star Alberto del Rio suddenly disappeared from Instagram and Paige also enabled commenting on her Instagram posts. Fans kept thinking something was wrong with the relationship off late.
As expected, after weeks of speculation, reports surfaced all over that Paige was no more in a relationship with Alberto. No one really knew the reason why.
Watch: Alberto smooches Paige on live video!
Alberto, however, has now spoken up in a heart to heart chat at the Keeping It 100 with Konnan podcast.
Long-distance problems
"We decided to end our relationship because she's in Orlando, I'm in San Antonio and now she's back on the road and the schedule over there is non-stop," mentioned the famed 40-year-old pro wrestler, who is currently signed with TNA Impact Wrestling.
"And my schedule is non-stop with my pro wrestling shows, my projects and stuff with Telemundo-Mexico TV Azteca, calendar, charity events and all that stuff. So we were not seeing each other and then, because she was training and getting ready to go back, they were not letting her come to San Antonio.
"I couldn't go to Orlando because I have three little kids and I was coming home two or three days. And I had to choose between going to Orlando or staying with my kids. So, of course, I decided to stay with my kids. We decided to end our relationship."
Couldn't keep quiet for long
"We decided not to say anything," said Alberto.
"But actually when we were in Canada doing Impact tapings, I talked to Paige and I said: 'Listen I think it's about time for us to say something because people... they are starting to realise that we're not together... especially because I was working and with my kids somewhere else and you were hanging out with your friends."
While Paige is now starting life afresh following her impactful return to the WWE and the formation of femme fatale three-member team 'Absolution', Del Rio (also known as Alberto El Patron) remains a key draw for the fans of Impact Wrestling.
He also serves as an ambassador for the MMA promotion Combate Americas.