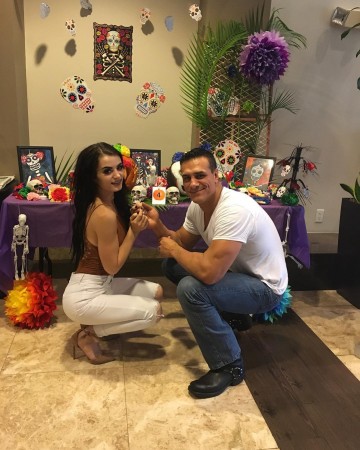 We all are aware of what happened with Paige aka Saraya Jade-Bevis a few weeks back after her nude images and a sex tape surfaced online. Despite that, Alberto del Rio (Alberto El Patron), her boyfriend, stood by her and announced they will get married in June 2017.
Alberto, formerly with the WWE, did react strongly to the incident of Paige's intimate moments being shared by Celeb Jihad as part of Fappening 2.0. However, the TNA Impact Wrestling star has now taken to a live video to vent his anger.
Del Rio did mention at the start of his live video from the Times Square in New York City that he was drunk, but also added "that's when the good stuff come".
Paige seemed a little bit embarassed with the drunken rant by her fiance on the live Twitter periscope video, but Alberto was on a Free Association mood.
He mentioned that Paige wasn't coming back to the WWE as she was pregnant and also took a dig, possibly on Triple H, by referring to him as having a "big f**** nose". He also called the entire WWE company as a "bunch of p**** with small d****".
As for the ones who leaked the videos of his soon-to-be-wife, he dropped plenty of F-bombs on them and smooched her wife time and again in the video.
As a parting note, this is what Alberto said: "One more time, for the ones supporting us, thank you so much.
"For the ones not supporting us, go and f*** yourself.
"And, if you have the balls, just knock on my door. I live in San Antonio, I have a restaurant, just try and fight me there, if you have the balls.
"If you have the balls to say something bad about my wife in front of me, have the balls to show up, b****."
Full footage here: NSFW Warning