Twitter users and cricket fans went crazy on a day when Rohit Sharma made his 3rd ODI double ton. Twitterati also went bonkers after finding out that MS Dhoni's recently liked tweet from a hindi news organisation had the words 'Match fixed'.
The tweet from the vernacular news organisation mentioned that Team India are set to win the 2019 Cricket World Cup...as the match was 'fixed'.
Definitely a controversial statement when a first reading is made and the veteran Dhoni 'liking' it makes more eyebrows raise!
A look into the news story, however, reveals a completely different tale. How can we forget MSD's sharp humour and a knack to look out for out-of-the-box articles!
The gist of the story is this: All the Indian captains who got married just two-three years before a cricket world cup, have gone on to win the ICC trophy. Of course, the list includes Kapil Dev and Dhoni himself.
Now, Virat Kohli, who is confirmed to captain Team India in the ICC World Cup 2019, got married to Bollywood actress Anushka Sharma earlier this week. The wedding in Italy was arranged in the most secretive way possible, but after the couple brought out a statement and photos of their wedding in the evening, social media broke loose.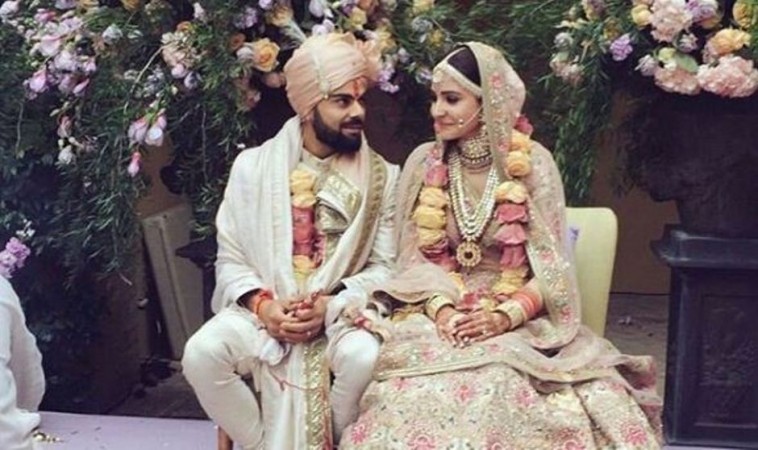 The author of the story (in that hindi news piece) is absolutely confident that India cricket team will win the world cup for the third time in 2019 in England...and Anushka Sharma will turn out to be that lady luck.
This is what has happened in history so far:
1983 - India won their first-ever cricket world cup. Kapil Dev was the captain then.

1980 - Kapil Dev married Roma Bhatiya.
2011 - India win their second cricket world cup. MS Dhoni remained the captain.

2010 - Dhoni got married to Sakshi Singh Rawat.
2019 - Team India is definitely one of the favourites to clinch their third world cup. Virat Kohli is set to be the captain.

2017 - Kohli married Anushka Sharma.
Whoever said marriage doesn't bring you luck!